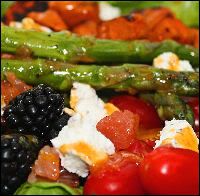 It's gray today. It's hot, and the air is sticky, and thunder keeps rolling through but there's no rain. It's one of those days that just makes you want to sit in the air conditioning and not move much.
The perfect cure for the hot-sticky blues is something fresh, bright, and clean. Something sweet and tangy and fabulous. Something just loaded to the brim with all kinds of goodness that comes from the earth.
So on days like these, a salad just fits the bill.
But we can't have just any ol' salad, now can we? Nope. That just won't do. A salad should have texure, and not just texture but contrast! Hot and cold, sweet and spicy, creamy and crunchy, ooh baby, I'm gettin' all shivery. Sounds like one hell of a salad, yeah? Yeah!