Oh my gosh, you guys! I was just reading through my own blog and saw, several posts down, that I promised you gooey butter cake balls. I never delivered on those, did I? Oh no.
Please forgive me. Let me fix that right this second.
First, some history.
This is a gooey butter cake.
Thanks to www.tidymom.net for the pic!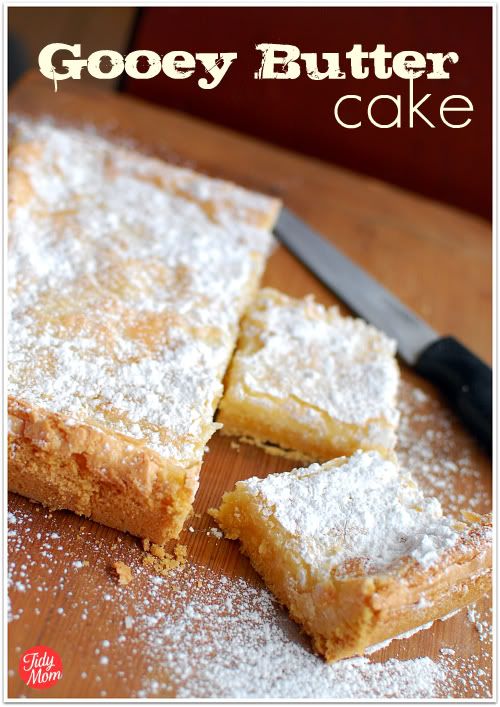 It is exactly what it sounds like--it's a cake, it's gooey, and it tastes like butter. It's sweet and rich, and satisfies that urge your sweet tooth sometimes has for something just horribly unhealthy. It's also
delicious
.
Gooey butter cake is a St. Louis landmark and tradition that originated in the 1930s. According to legend, a German baker added the wrong proportions of ingredients in the coffee cake batter he was making. It turned into a gooey, custard-like filling.
Being a true St. Louisian, I couldn't resist the urge to turn a local point of pride into a lush truffle.
I made several different attempts, trying to get the flavor and texture just right.
First, I tried putting an entire gooey butter cake in a food processor. I ended up with rich, custardy goo. So that got tossed.
(I may or may not have snuck out of bed in the middle of the night to steal spoonfuls of said goo from the bowl on the counter before I mustered the discipline to throw it away.)
Then I tried just pinching off bits of gooey butter cake and rolling them into balls. That didn't work because the texture was inconsistent and gave me lumpy truffles with bits of globby crust pieces. No bueno.
So finally it hit me that I don't have to use actual gooey butter cake if I can just get the flavor and texture right. So I went hunting.
I needed something crusty and buttery. So I went and scoured the cookie aisle at my local grocery. Bingo! I found a box of extra-buttery shortbread tea cookies. They actually
said
"Extra buttery!" on the box. So I took those home and ground them up in the food processor into fine crumbs.
I also needed creaminess. So I made a quick bowl of buttercream frosting with one stick of butter and 2 cups of powdered sugar and 1 teaspoon vanilla and a drizzle of milk. Whip well until light and fluffy. I used unsalted, sweet cream butter for the right richness.
Mix a generous dollop of buttercream into the crumbs and stir until well mixed and smooth.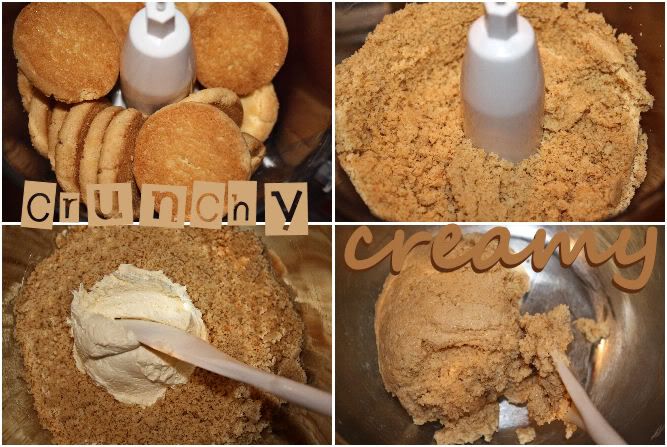 Next, I rolled the GBC (gooey butter cake) dough into 1" balls and chilled for an hour until firm and set.
next, melt 12 ounces chocolate flavored almond bark. Make sure to stir it smooth.
Inserting a toothpick into a chilled dough ball, gently dip it into the melted bark. Tap to remove excess and let set on a piece of parchment.
When all balls are dipped and set, drizzle a bit of melted bark over the tops to cover the toothpick holes and seal.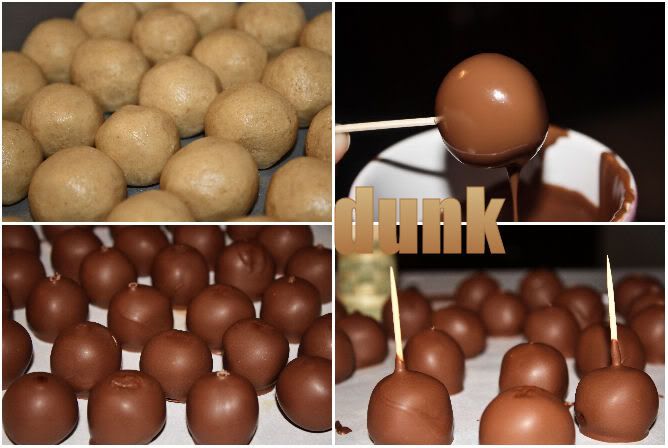 When it's all done, sprinkle with some powdered sugar, and go to town.
Enjoy and happy eating!!