Hold onto your britches, friends.
Are these not the darn coolest things ever? And the best part is that they're sneaky! On the outside, they're a plain ol' boring cakepop. Sure, they're chocolatey and delicious. Sure, they're creamy and melt-in-your-mouth, but still. Just a cakepop. (Bakerella is hiring a hitman to hunt me down as we speak, for blaspheming so awfully)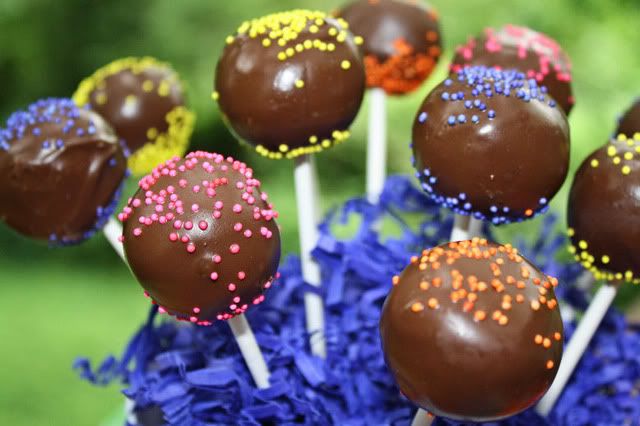 But
then
... You bite into it, and KAPOW!! Totally groovy psychedelic swirls of colorfun jump out and smack you in the face! (Because they're fierce like that.
Fierce.
) You didn't see it coming, did you? Well, that'll teach you. Don't underestimate the mighty cakepop. (Please call off the hit, B. I love you.)
Anyway, I must say, these were quite a project. I did two batches, and the first was FAR more time consuming than the second. By the time I got to the second batch, I had a better idea of how to go about it, and the results came out much better with much less work. Win, right? I'm all for less work.
So, I'll tell ya how it happened. No magic wands were involved.
First, I mixed up a batch of plain
vanilla white cake
.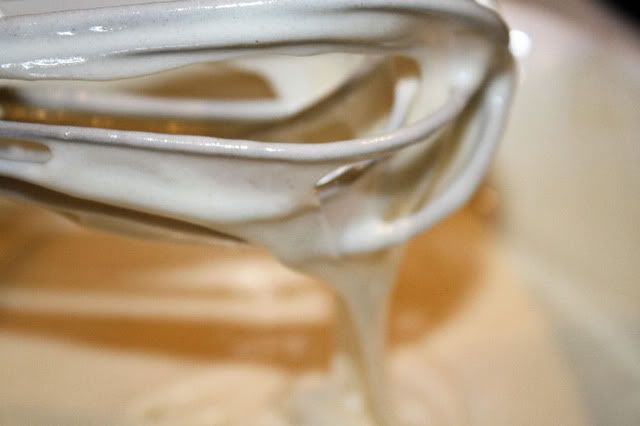 Then, I separated it into five bowls and tinted each bowl a different color. I did these blue, yellow, orange, pink, and purple. I'm sorry I used awful, disposable bowls. You deserve better. Also? I'm a super messy baker.
Pour into muffin tins and bake.
(Now, you could also use regular cake pans, but I needed the colored muffin tops for another project.)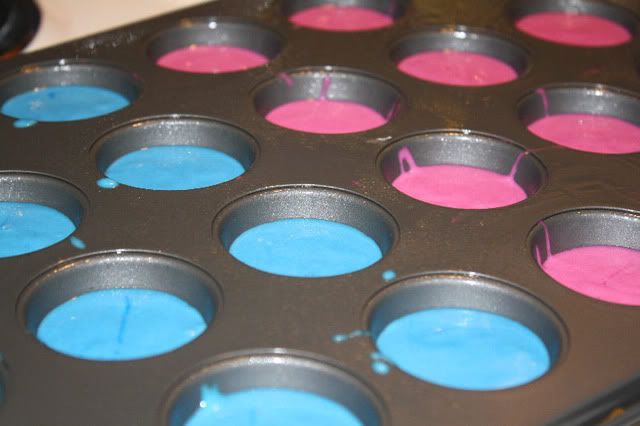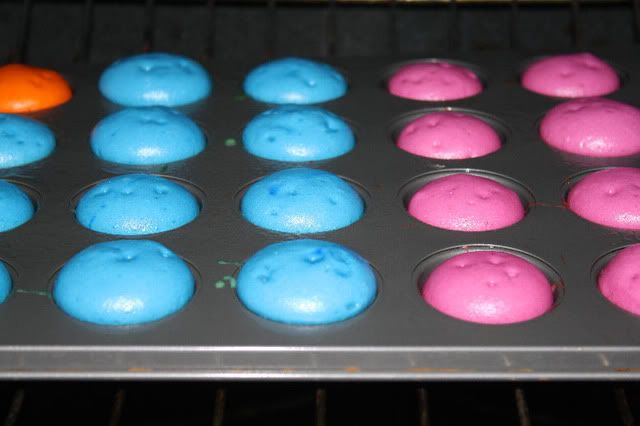 When cooled, throw the muffins, one color at a time, into the food processor and pulse to fine crumbs. Transfer crumbs to a bowl and mix with frosting. I used basic buttercream, tinted the same color as the cake for extra vibrancy.
Repeat for the rest of your colors.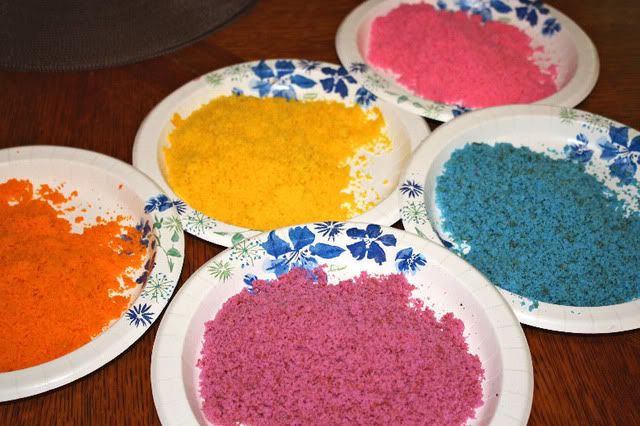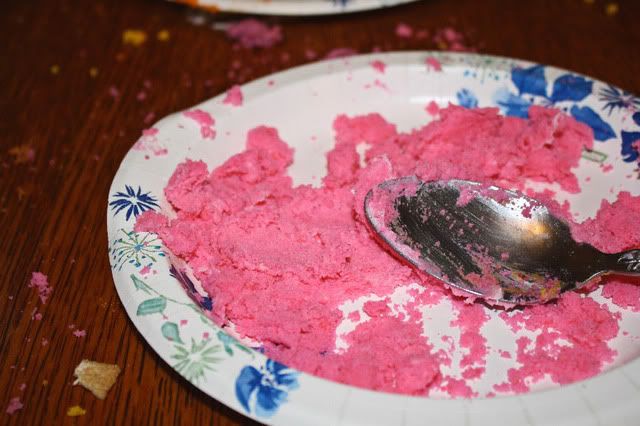 See? Super messy. But it's a happy mess!
Then, chill each bowl (or in my case, plate) of cakeball "dough" until firm and moldable.
I laid out a sheet of plastic wrap, got my hands damp (not wet!) under warm water, and pressed the first color of dough out into a long, thing strip. I started with purple. Wash hands. Repeat with each color, adding layer on top of layer.
Then, I brought the plastic up, wrapped it around my layers, and pressed the layered stack of dough into a cylinder, much like you would a jelly roll cake. This is where you can twist it up or whatever you like to get your pattern inside.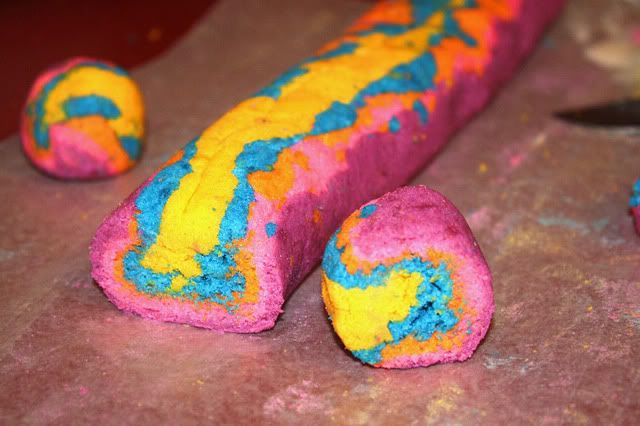 Cutting off little 1" segments with a sharp knife, roll each piece between your palms into a sphere, or whatever shape you might happen to be making. Be sure to rinse your hands often, or the outside of your spheres will become a muddled mess of color as the dough rubs off on your hands. Of course, since they're being dipped, that really doesn't matter. But I'm kind of OCD like that.
Chill until firm. Then, just skewer with your lolly sticks, and dip as usual. Voila! Pretty nifty, eh?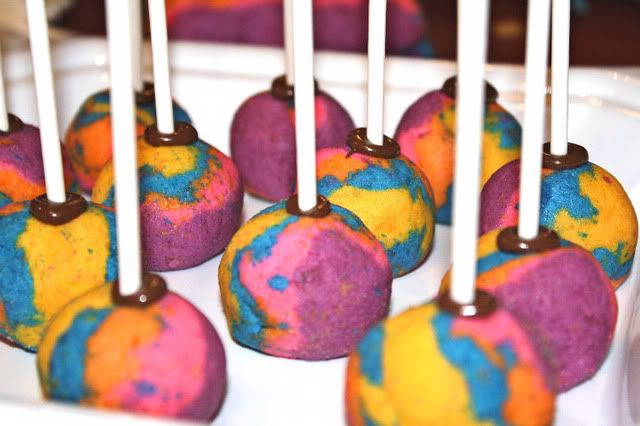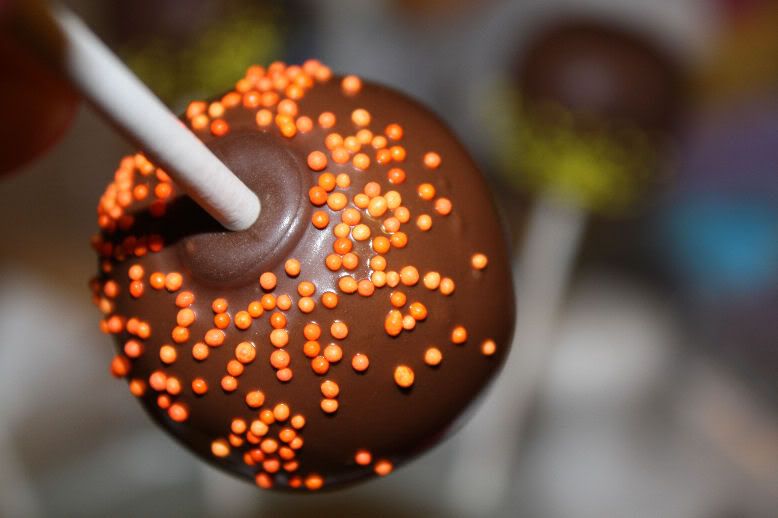 You end up with a lovely swirl of color inside, and the best part? You can make them any color you want! Multicolored pops for baby showers, weddings, theme parties, whatev. And people will be totally amazed and swear you're magic. That's the best part.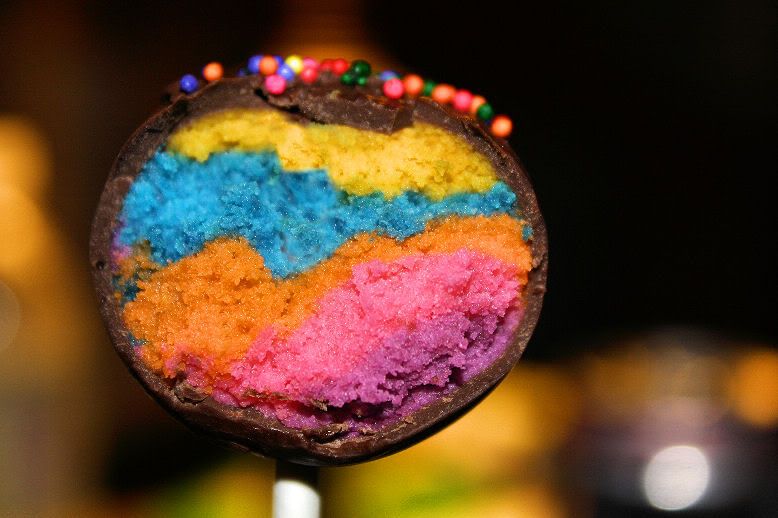 Oh, and my daughter thinks they're super cool, too. She approves. And she matches.
Enjoy and happy eating!