A wicked ice storm is rolling in this week, here in good ol' St. Louis.
Fortunately, on days when the feet are cold and the firewood doesn't suffice, there's always something you can count on to warm the bones. Soup.
I love a good thick soup on a cold day, and there's almost nothing thicker than split pea. Mine is made with shallots and turkey ham, topped in a crown of sour cream and scallions.
K/V Sub: To make this soup Vegan or OUP: Omit the turkey ham entirely (though you'll lose a good deal of flavor. My friend Bliss suggested the use of Liquid Smoke to compensate for this. Good thinking!) - OR - Replace the turkey ham with a meatless alternative. A good option is
Worthington® Meatless Wham Vegetable Protein Roll
. Replace butter with vegetable margarine.
Hearty Split Pea Soup, with "Ham" and Sour Cream
What's In It:
- 1 pound dried split peas
- 2 tablespoons unsalted butter
- 2 chopped shallots (you can also use yellow onion)
- 2 stalks chopped celery
- 2 medium chopped carrots (if you like your soup smooth, chop finely. I like mine chunky, so I just gave them a rough once-over.)
- 2 teaspoons minced garlic
- 1 pound turkey ham, chopped into small cubes
-
(If you are not vegetarian or kosher, you can use regular ham, of course)
- 1 teaspoon kosher salt
- 3/4 teaspoon freshly ground black pepper
- 1/4 teaspoon crushed red pepper flakes
- 8 cups water
- 1 bay leaf
- 1 Tbsp concentrated vegetable bouillon, dissolved into 2 Tbsp warm water
- 2 teaspoons fresh thyme -OR- 3 teaspoons dried thyme
Sour cream and scallions to garnish. Remember folks, presentation is everything!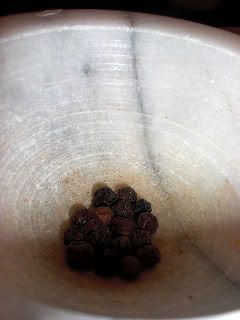 _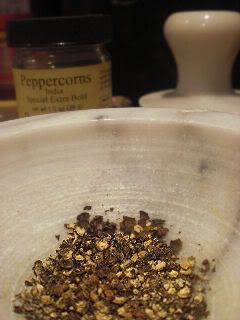 __________________________________________________________________________
Toss your dried peas in a pot or a bowl, and cover generously with cold water. Give 'em about 2" headroom. Let the little babies soak at least 8 hours. Personally, I'm just going to tuck them in and go to bed.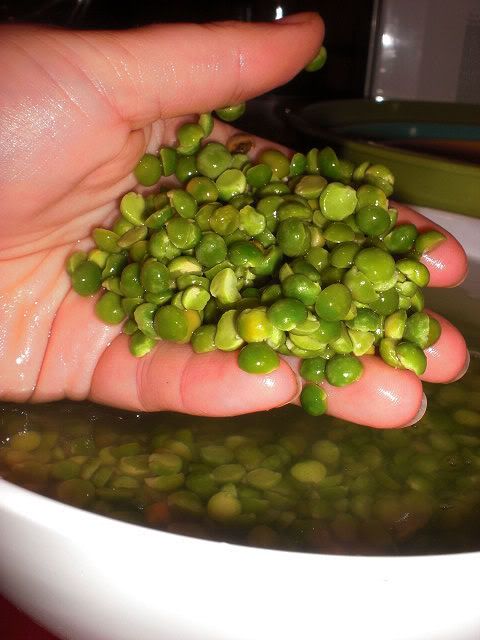 (Fast forward 8 hours)
Good morning, peas!
In a large pot, melt the butter over medium-high heat with the chopped shallots. Once they start to soften and the butter begins to brown, add the turkey ham, stir, and let everything soften and get all nice and golden, about 2 minutes. Add your celery and carrots and stir until just soft, about 3 minutes. Add your minced garlic. Everything should be smelling quite luscious about now.
[Trivia! The trio combination of onion, carrot, and celery is called
mirepoix
(meer-pwa) and is the central base flavoring of many, many soups.]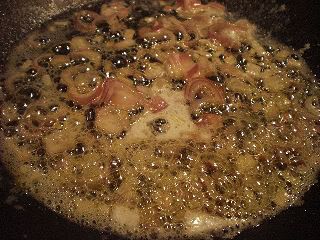 _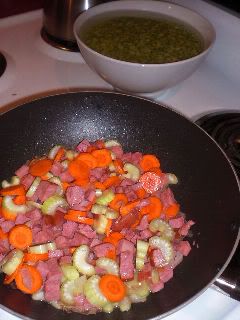 Drain your well-soaked peas, and invite them to the party. Introduce the salt, pepper, and pepper flakes, as well, and let them all simmer together for 2 minutes.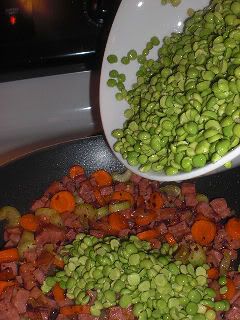 _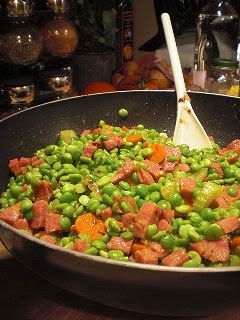 Add 8 cups of water to cool them all off (you have to watch that salt, man. He likes to party hard), and add the bouillon, bay leaf and thyme.
Stirring occasionally, simmer everyone together until the split peas are soft and tender, about 1 hour. If the soup becomes too thick or dry, you can always add more water as needed.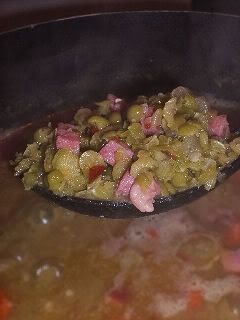 _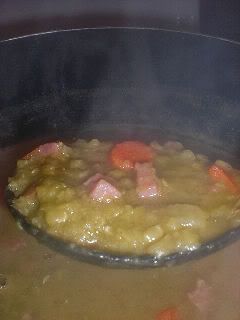 Sample your pot of joy and make sure all spices are to your liking. We all like different flavors, so adjust as needed. Make sure to fish out that old bay leaf, and serve soup hot, with a dollop of sour cream and a scattering of bright scallions. And of course, don't forget the cornbread!!
Ahhhhh, so warm and delicious. Snow? What snow?