When life gives you lemons...make cookies!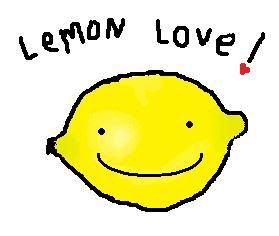 Original awesome artwork
Who doesn't love a cookie? These lemon cookies are super simple, soft, and fluffy. Very cake-like, they make excellent cookie & jam snackwiches. The trick is to bake them very briefly. You don't want to wait for them to look 'done' in the oven, because by then, they'll be TOO done, and these just aren't the same if they're not soft.
Preheat the oven to 350°F.
Do not bake the cookies until the oven is fully preheated. (Anyone want a rousing chorus of "Some like it hot?")
Ingredients:
Recipe is kosher dairy and, obviously, vegetarian.
... Meat cookies would probably be nasty.
Okay, let's go.
(A)
2 sticks sweet cream, unsalted butter, thoroughly softened
1 cup granulated, white sugar
3.4oz package instant lemon pudding
(I'll let you in on a little secret I've been reluctant to give up until now. You'll notice when I post cookie recipes, I often use the same 'base' recipe, which almost always contains pudding. That's because, frankly, it makes 'em awesome)
(B)
2 eggs
1 Tbsp fresh lemon zest
1 Tbsp lemon juice
2 tsp vanilla extract
1 tsp baking soda
(C)
2 1/4C white flour
_____________________________________________________________________
Beat together (A) ingredients with a hand mixer until soft and fluffy.
Add (B) ingredients and continue mixing until well incorporated.
Gradually fold in the flour. I usually add 1/2c at a time. The dough will get very thick and hard to stir. If you ever get to the point where you just wanna say "Screw it" or your spoon's about to break, you can always just turn it out onto a cutting board and knead it like bread dough.
Once the dough is well mixed, line a cookie sheet with foil. No need to spray or grease unless you want to. (But if you do, I recommend butter. It's the Paula Deen in me. More butter!)
Roll cookies into balls. I used tiny little 3/4" balls for these, and they made cute little bites, appropriate for tea time or social events if ya want to get all ...
fancy
. You can make them as large as you like, but be aware that they won't spread much, so if you make them too big, they may end up underbaked in the middle.
Pop into the hot oven and bake. I usually bake mine for around 6-7 minutes. They should NOT be golden or firm, like your typical cookie recipe says they should. They may still look soft or wobbly, but the bottoms should be just firm enough that they don't fall apart when moved. I know, I know. "How could they possibly be done??" Have faith. :)
Transfer cookies to a cooling rack. Gentle! They're fragile. Once they're fully cool (and much more firm), use a small strainer or sifter to dust with powdered sugar.
At this point, you can eat them as-is, or you can put two of them together with any number of fillings--lemon curd, raspberry jam, vanilla buttercream... man. Anyone craving cookies?
Enjoy, and happy eating!