Sometimes, I don't want to do stuff.
Sometimes my bed looks far too inviting to want to actually crawl out of it and be productive. And sometimes even pouring a bowl of cereal is way too much work. Get a bowl? Ug. Put the milk BACK in the fridge? Psh. I can't be bothered with all that high maintenance breakfast drama for something blah like Cheerios.
So what's a lazy girl to do when the sun is shining, and the day beckons for something healthy and fresh and wholesome, but you're still schlepping around the house in a ratty tshirt, half asleep? Make these bars, that's what. They come together in, like, 5 seconds. There's very little cleanup, they make just enough for two or three to share (or one hungry baker) and... Hm. What else...?
Oh! That's right, did I mention they're vegan? And gluten free! And you can even easily make them
raw
vegan if you wanted, if you're feeling extra granola.
This recipe is loosely adapted from one I saw in this month's "Whole Living" magazine. Except I changed some stuff. And added some stuff. But the concept has been stuck in my head since I first saw it, and has been whining to be let out.
So what do you need for these fab breakfast/dessert/snack/because-it's-tuesday bars?
You'll need a food processor. And a dish. Preferably a loaf pan or a 6x6 or smaller casserole. Or little tart pans if you want to get all fancy.
Then, you'll need some foodstuffs.
This is a small-batch kinda thing. It only makes 4-6 bars.
6-7 large strawberries
1 1/2 cups dried, pitted dates
1/4 cup unsweetened coconut
1/4 cup cashews
2 tablespoons old fashioned rolled oats
1/4 cup no-sugar-added strawberry jam
(if you're not vegan, you can use regular jam.
If you're raw, use mashed berries instead of jam, and make sure your coconut and cashews are raw, not toasted or roasted)
...and that's it. Crazy.
And here's how they come together. Just watch, you're gonna laugh. These are the most easy-peasy things ever.
In a food processor, whirl all ingredients except the jam and berries until finely crumbed. You don't want any big pieces.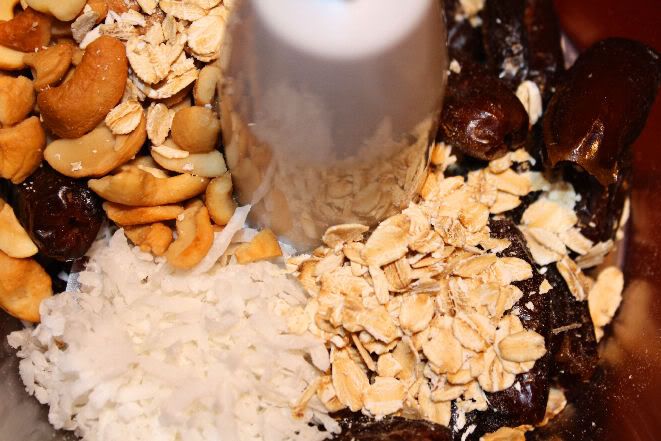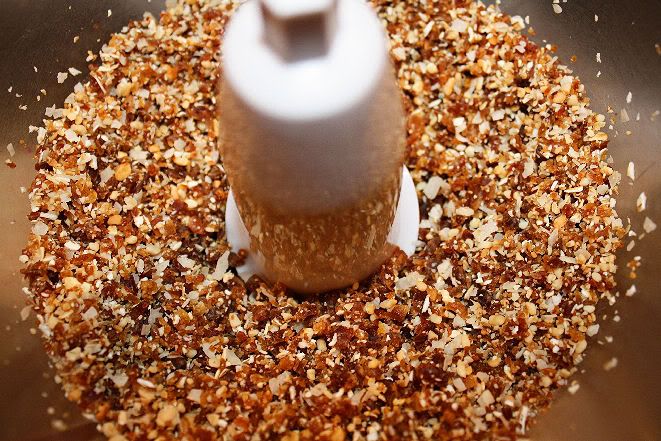 Press the crumb mixture into the bottom of an ungreased casserole dish or standard loaf pan. This won't make a lot, so don't use a large dish. I used a vintage 6x6 casserole that I found for $2 at a thrift shop. Wee!
Then, just spoon your jam or mashed berries over the pressed crumb crust in an even layer. My jam is homemade. I made it last night in a fit of productivity. It has strawberries and balsamic vinegar and key lime juice and Riesling wine. It's yum.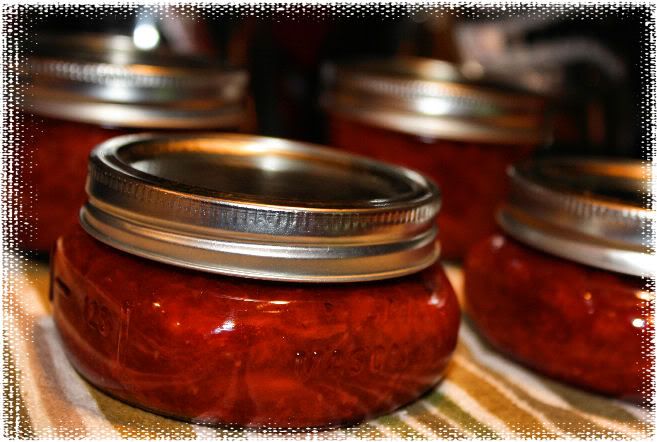 Then, slice up your strawberries and lay them over the jam. Press everything down just a bit to make sure it holds together. Chill for 10 minutes, slice, and serve. The crust is soft and chewy, with that lovely brown sugar flavor from the dates, offset by the tart, tangy strawberries. So many fantastic flavors and textures, all partying together. It's a good time.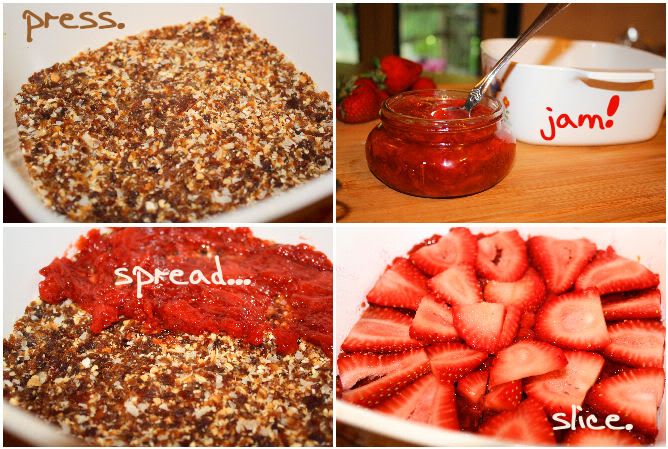 The bottom may be crumbly, so you can serve it with a fork. Your floors will thank you. Your dog won't.
Enjoy, and happy eating!!