This is a cookie for the ages, folks. One for the record books. I don't think it is physically possible to stuff more chocolate into this thing. Well...maybe if you dipped them in chocolate, and topped with chocolate sprinkles...
::head explodes::
Okay, so. Preheat the oven to 350°F.
Do not bake the cookies until the oven is fully preheated.
Here's what's in 'em.
(Recipe is Kosher Dairy)
(A)
2 sticks sweet cream, unsalted butter, thoroughly softened
1 cup dark brown sugar, packed
3.4oz package instant fudge pudding
(B)
2 eggs
2 tsp vanilla extract
2 tsp chocolate liquor (optional)
1 tsp baking soda
(C)
2 1/4C white flour
12 oz semisweet MINI morsels
- My dear friend Jenny looked it up, and I personally went to the store and checked--Nestle's minis
are
certified kosher.
The mini morsels are what give the cookie its gooey texture. Regular chips will not achieve this effect. If you cannot find mini morsels, you can buy regular ones and give them a toss in a food processor.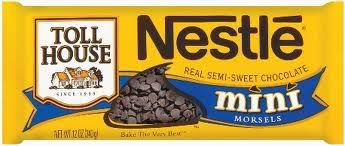 _____________________________________________________________________
Beat together (A) ingredients with a hand mixer until soft and fluffy.
Add (B) ingredients and continue mixing until well incorporated.
Gradually fold in the flour and chocolate morsels. I usually add 1/2c at a time. The dough will get very thick and hard to stir. Don't be afraid to get in there with your hands and knead it up. Get dirty, baby!
Once the dough is well mixed, line a cookie sheet with foil and grease well. I recommend (as always) butter. It'll give your cookie bottoms a nice flavor and a lovely crisp. But Pam works, too.
There are many ways to shape these cookies.
For rounded, uniform treats, roll into 1" balls and flatten slightly.
For natural, chunky-looking chocolate bombs, drop by heaping spoonfuls onto lined pan.
For instant gratification, just stop now and eat the dough with a spoon.
...Or continue on, whichever...
Bake cookies about 6-8 minutes until bottoms are slightly firm (enough that you can lift them with the edge of a spatula without them falling apart) but the tops are still very soft. Transfer to cooling rack to let them finish baking in their own delicious heat.
The cookies will stay soft for a very long time. If they sit too long, though (more than a week) they may start to harden slightly. (HA! In what world does that happen? A cookie in this household is lucky to see dawn the next day) But if you're better with restraint than I am, and your cookies aren't so soft anymore, pop 'em in the micro for 10 seconds. They'll be all warm and gooey again in no time, ready for your lovin'.
If you REALLY want to make heads explode, you can drizzle the finished cookies in dark chocolate, or in white chocolate for pretty contrast. I'm sad I don't have a photo of that. The idea just occurred to me. :(
Well now, I'll just have to make another batch.
Enjoy, and happy eating!