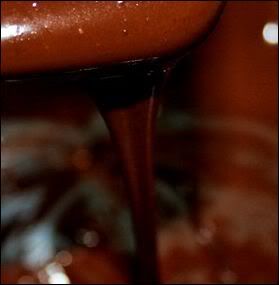 Hold onto your hats, friends. This recipe is one for the bookmarks. Everyone loves a creamy, velvety chocolate truffle, amiright? Take a bite and that luscious ganache filling just melts in your mouth. You can't have just one.
So I turned that thick, decadent truffle flavor into a cake. Each bite has the same luxurious texture. Cut with a drizzle of tart raspberry glaze, this cake is sure to be a go-to recipe for elegant parties, or nights when that sweet tooth simply can't be satisfied with anything less. Also, because it is flour free, it's a perfect recipe for Passover and those with gluten intolerances or wheat or nut allergies. Win!
We're going to start with a very simple recipe.
Preheat your oven to 300 degrees.
Oh! Just a heads up--this is not a whip-together-at-last-minute sorta deal. This is a low-and-slow kinda cake, loverfaces. You'll want to give it enough time to bake and chill overnight before serving, so plan ahead.
1/2 cup water
1/4 teaspoon kosher salt
3/4 cup white sugar
18 ounces bittersweet chocolate (you can use chips or baking squares)
1 cup (two sticks) unsalted sweet cream butter (the higher quality, the better)
6 large eggs
In a small saucepan (I used a teakettle for convenience's sake) combine the water, salt, and sugar and bring to a simmer. You want the sugar and salt to completely dissolve. If it doesn't dissolve completely, your cake will be gritty, so this is an important step. Don't let the water evaporate, so keep a lid on it.
Now, for the chocolate! Lots and lots of chocolate. More than a pound of the good stuff! There's no such thing as too much when it comes to a decadent cake. Really. For best results, use high quality chocolate. When you have a dessert like this with so few ingredients, the quality of those ingredients is important. I used bittersweet baking chocolate, and Ghiradelli chips. Mm, all that chocolate. Smells a little like evil in the kitchen.
Empty your chocolate into a microwave safe bowl. Zap it at full power for 30 second intervals, stirring well between each interval. Make sure to scrape the sides of the bowl and get all that chocolate worked into itself. We want smooth, creamy chocolate with no lumps.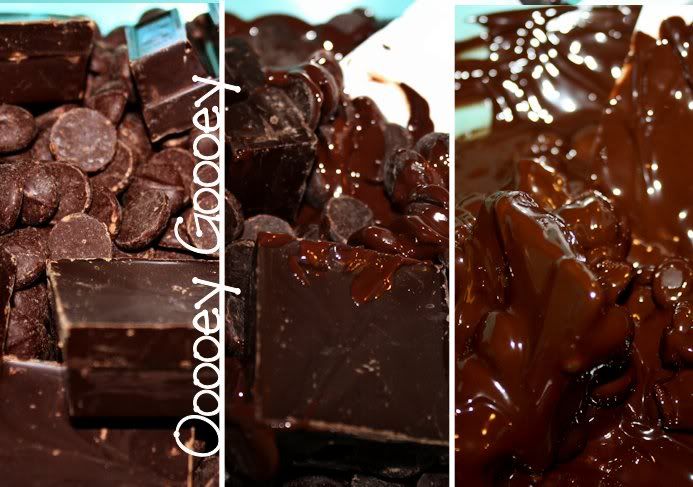 Chop the butter into pieces and add it into the chocolate, along with the hot sugar/salt water. Stir well until the butter has melted and the chocolate is smooth. Sorta like this. :) Ohhhh yeah.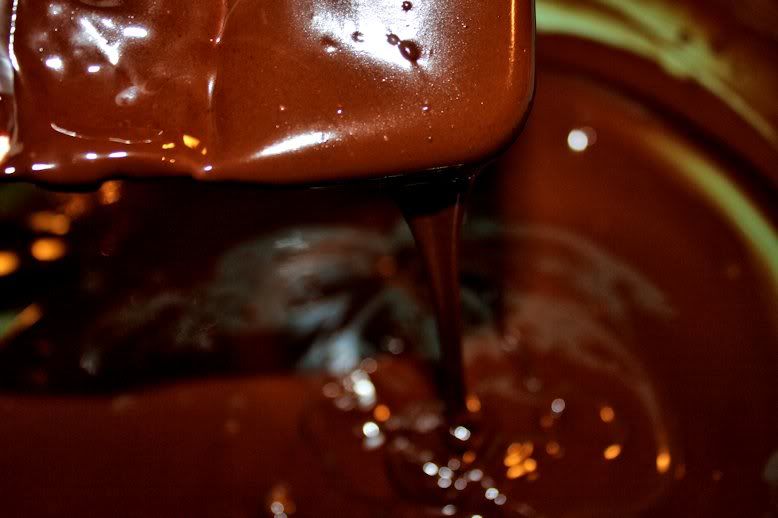 Once the chocolate has cooled a bit, we're going to add the eggs. Don't add them while the chocolate is hot, or you'll end up with scrambled eggs, and that's not the texture we want, no ma'am. Plop them in one at a time for best results.
Using a hand mixer (unless you really just want to work on your bikini arms), whip the chocolate and eggs together until fully incorporated. You shouldn't be able to tell there's any egg in there--it should be perfectly even and blended.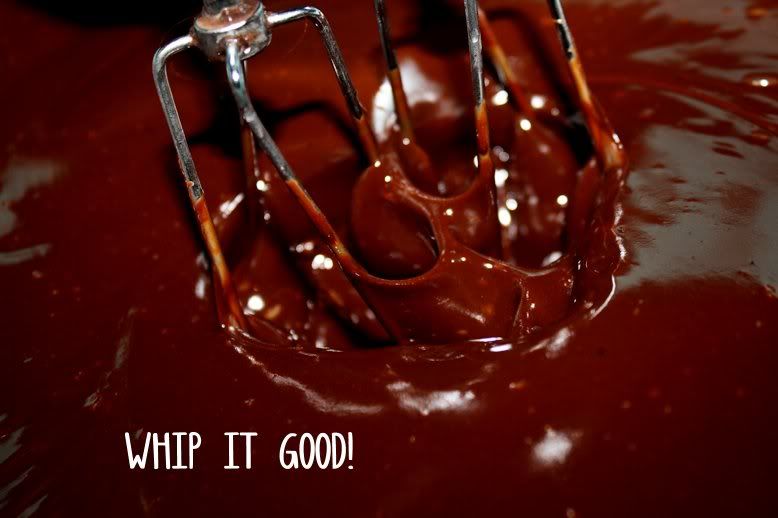 To bake this cake and retain an evenly-baked texture with no dry or cracked patches, we're going to bake it in a water bath. Using a water bath keeps the oven's interior humid, bakes the cake gently, and spreads the heat evenly around the pan to prevent overbaking.
Taking a 9" springform pan, line the bottom insert in parchment. This will help keep the edges of the pan sealed and keep the cake from sticking. You can trim any excess parchment sticking out. With the inherent creaminess of this cake, you'll want a satin-smooth finish to make it perfect. Using your fingers or a pastry brush, grease the parchment and sides of the pan with vegetable shortening. You can use nonstick spray if you don't have shortening.
Wrap aluminum foil around the bottom of the pan, bringing it up the sides. This is simply to ensure that no water leaks into your pan while baking, 'cause that can make a gooey mess.
Now pour in your batter and place the springform pan into a large, shallow roasting pan. I used a 9"x13" cake pan. Fill it with hot water, halfway up the side of the springform. Stick that bad boy in your oven, set a timer for 45 minutes, and go have a cocktail. And for the love of chocolate, don't open your oven door to peek. You'll let all that lovely steam out. Your cake is taking a spa day, you should too. So go relax.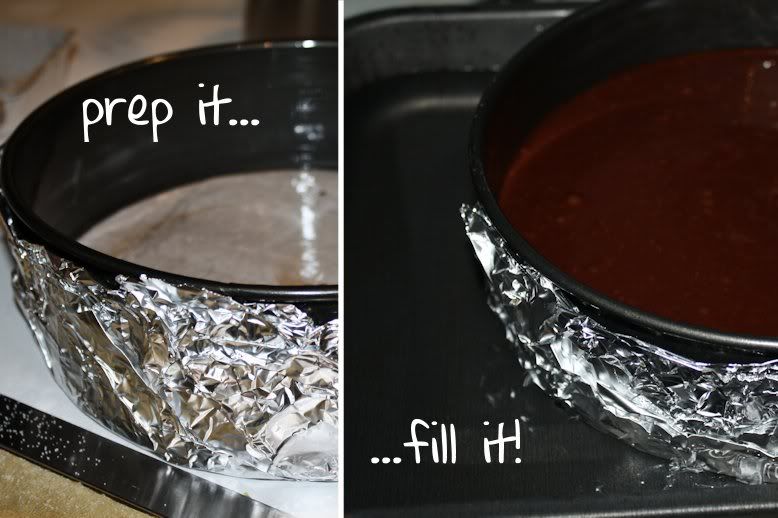 When your timer dings, you can take the cake out to cool. It will still look wet and wobbly in the middle--totally normal! Don't bake it anymore. Remove the springform from its bath and put it on the counter on a cooling rack. I's gonna hang out there for an hour or so. And then transfer the cake (IN the pan) to the fridge and let it chill at least 10 hours (preferably overnight).
When you're ready to serve, run a hot butter knife (I dip mine under steaming water and wipe with a towel) around the outer edge of the cake, between the cake and the pan, to loosen it. You'll see by now that the cake is fully set and cooled and firm. Remove the springform's ring. Invert your cake onto your serving platter and peel off the parchment. You can garnish with powdered sugar, a dusting of cocoa, fresh fruit, whipped cream, whatever.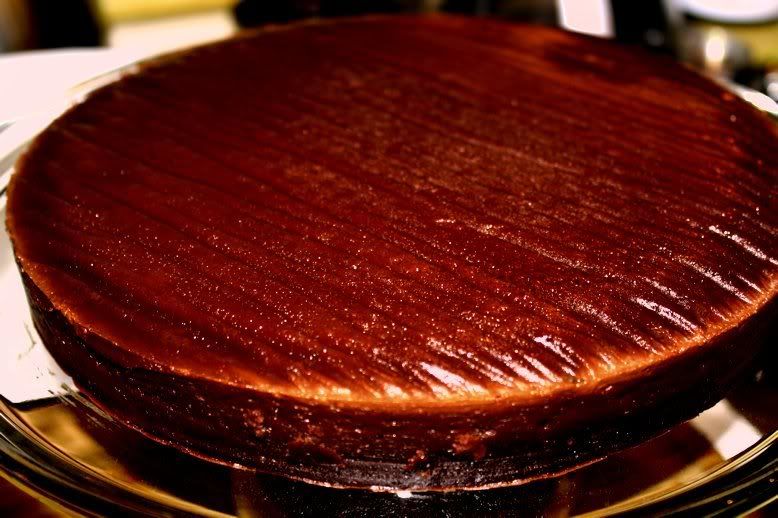 Because I'm a glutton, I topped mine with--what else? Homemade dark chocolate ganache. What compliments an intense chocolate cake better than a generous serving of MORE intense chocolate?? Nothing, I say. Nothing.
Ganache is so easy, it's silly, really.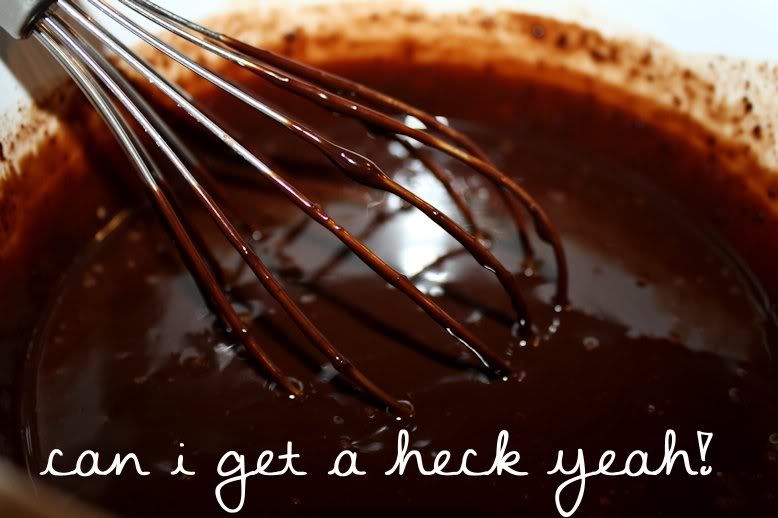 In a microwave safe bowl, nuke a cup of heavy cream for 90 seconds. It should be hot, but not scalded. Add in a 12oz package of dark (or milk, if you like that better) chocolate chips. Stir to blend. See? How easy is that? Really. Let it cool and thicken for a bit, about half an hour, and then drizzle over your cake. I drizzled a bit of mine, then let the rest firm up, covered, in the fridge for a couple of hours until it was thick enough to pipe. I drizzled. I piped. And then I piled on some fresh raspberries for color.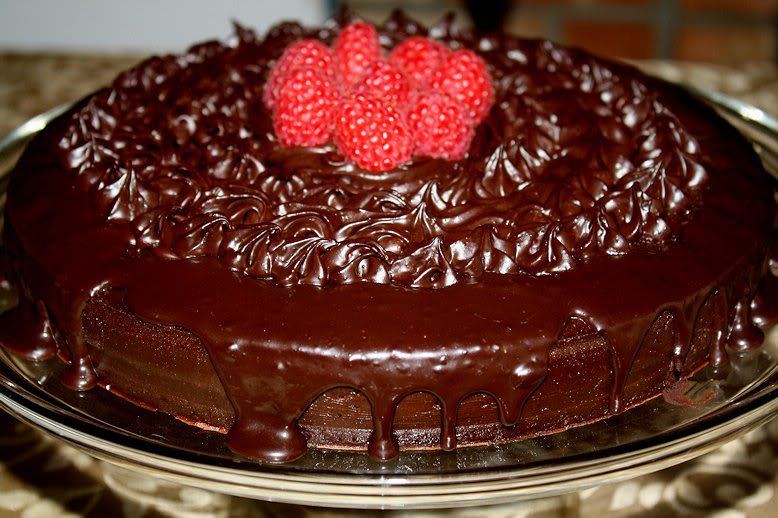 And there you have it. An entire cake made of chocolate truffle. This is a PMS-thwarting, man-catching, sweet tooth defying showstopper of a cake. You'll love it.
Happy eating!!