Nothing quite complements a thick, hearty soup like the rich buttery flavor of warm, homemade honey cornbread.
Sweetened with clover honey and brown sugar, spiced with cayenne and chilis, the flavor combination will make you sing. Not too firm, not too fluffy--just perfect for those winter meals that need a little something special.
[Before we begin--Daily tip! Check your baking powder. Most people let theirs sit forever and ever, and don't even know when it expires. Mine expired in July 2010, so I tested it by dissolving a tsp into warm water. It fizzed, so the CO2 hadn't gone flat yet, but I added an extra 2tsp to the recipe anyway, just in case. Now go check yours!]
Spiced Honey Cornbread
(Cornbread is Kosher Dairy.)
What's In This Awesome Cornbread:
1 cup flour
1 cup yellow cornmeal
1/4 cup dark brown sugar
1 tablespoon baking powder
1 cup heavy cream
1/4 cup vegetable oil
1/4 cup clover honey
2 eggs, lightly beaten
1 tablespoon powdered cayenne pepper (or chili powder)
1 teaspoon dried red chilis
________________________________________________________________
Preheat oven to 400 F.
I do
not
recommend using a solid baking pan for these. Your bread will fall apart, I promise. This recipe creates a soft, slightly crumbly cornbread with a wonderfully crispy exterior, and muffin tins work perfectly to hold each serving together and gives each little muffin that special crunchy touch.
If you have decent nonstick muffin tins, don't use a liner, either. It'll keep the bottoms from getting crispy and could pull apart the muffin when you remove the liner to eat it.
Instead, spray or grease the muffin pans with (what else!?) butter and lightly dust with cornmeal. It'll look messy. That's okay. God knows the best food is often born in a mess. But this way, they shouldn't stick, and they'll have a wonderful texture.
In a large bowl, sift together flour, cornmeal, brown sugar, baking powder, and spices. Make a well in the center of the dry ingredients, and add the cream, oil, honey and eggs. Stir well so everything blends together like one big love-fest.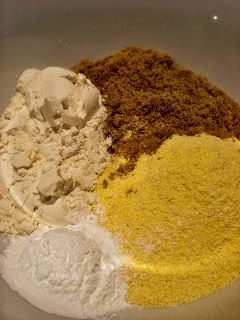 _
_
Pour into prepared pan. I received some lovely Williams Sonoma muffins tins as a gift from a dear friend once, so I'll use those. Bake in hot oven for 20 to 25 minutes, until tops are golden and your tester (toothpick, knife, etc) comes out clean.
My recipe made 10 average-sized muffins.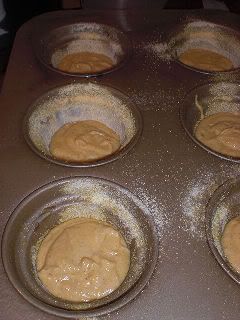 _
_