For decades, people have been confusing breakfast with dessert.
Layers of cake, drowned in sugary syrup? Why not? Call 'em flapjacks.
More cake, glazed in icing and filled with jam? Of course! Everyone loves donuts!
Flaky pastry, filled with sweet cream cheese and fruit compote? Well heck, who could say no to danish?
Now normally, I'm definitely more of an eggs and yogurt kind of girl, but today, I'm jumping on the dessert-for-breakfast bandwagon. This coffee cake is brimming with all kinds of fabulous breakfasty fruits. So it counts, right? Serve it up with eggs, and you've got a perfectly balanced breakfast.
No? Well hey, balanced is overrated. I think Marie Antoinette would agree.
As for the title of today's post, the cake
itself
isn't ruby red, but all the juicy goodness inside of it is. Fresh plump strawberries, tart stalks of fresh rhubarb, and of course, ruby red grapefruit. Oh yes, grapefruit. See, I told you it was a breakfast cake. And with Mother's Day right around the corner, it'd make a lovely brunch dessert. Wrap them in pretty pink liners and you'd have some spectacular muffins for Mom.
So how do we make 'em?
We'll start with a simple white cake recipe. Then we're gonna make it all fancy.
Ingredients
Basic cake batter:
1 cup white sugar
1/2 cup butter
2 eggs, room temperature
1 tablespoon vanilla or grapefruit extract
1 1/2 cups all-purpose flour
1 3/4 teaspoons baking powder
Fruit compote
1 heaping cup chopped strawberries
1 large ruby red grapefruit, halved
3 large stalks rhubarb, chopped
1/3 cup sugar
Streusel topping
3/4 cup flour
1/2 cup brown sugar
1/4 cup granulated sugar
5 Tbsp butter, softened
1 teaspoon cinnamon
Let's bake!
Preheat oven to 350 degrees F.
We'll start with the compote. First, squeeze the everlovin' heck out of those grapefruit halves. Reserve the juice. Then, scoop out the flesh and zest one of the halves.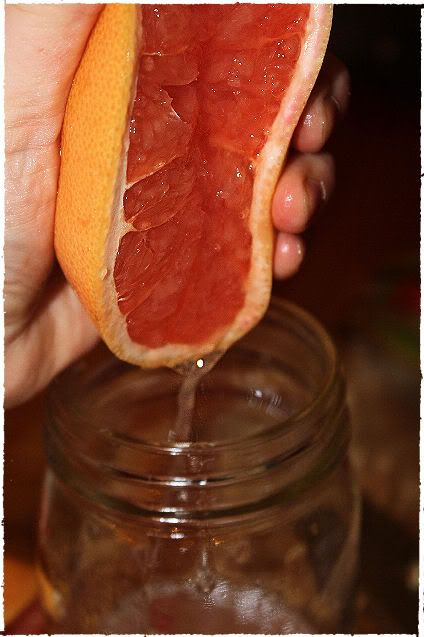 In a medium saucepan, combine your chopped rhubarb, strawberries, grapefruit flesh and zest, and sugar. You'll need 1/2 a cup of grapefruit juice for the cake batter, so save that, but add any remaining juice to the saucepan. Simmer over medium heat until well reduced and fruits are softened. Remove from heat and let it relax for a while.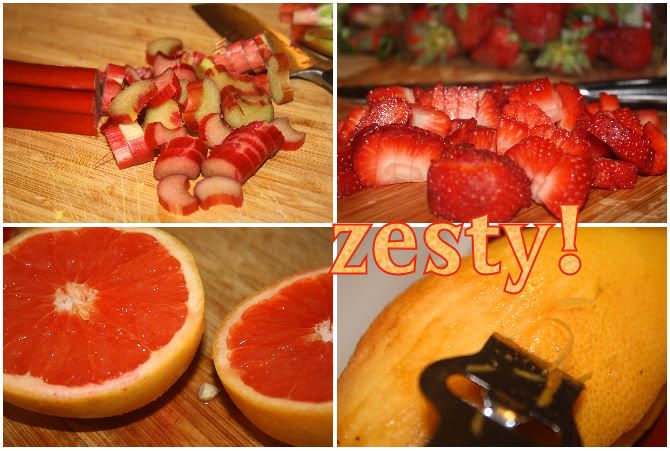 Now for the cake! In a medium bowl, cream together the sugar and butter. Beat in the eggs, one at a time, then stir in the extract.
In a separate bowl, whisk together flour and baking powder. This makes it light and smooth. Add the whisked flour to the creamed butter/egg mixture and stir well. Add the fruit compote and stir well. Try to get those lumps out. It'll be thick and slightly doughy. No worries--the juice will make it lovely.
Now!! Remember that 1/2 cup grapefruit juice we set aside earlier? Pour that juice into the thick batter and blend well. Let it sit a few minutes and it'll start getting fluffy and bubbly. That's the acidic juice reacting with your baking powder. It'll make the cake super light.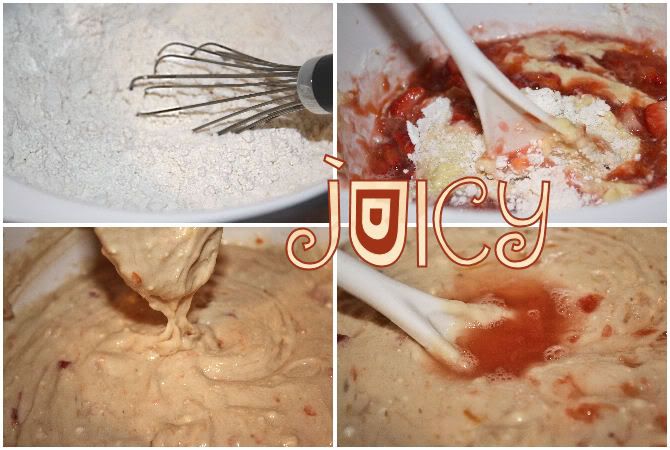 Pour or spoon batter into a lightly greased 9x9 pan or lined muffin tins.
On to the streusel. Oh, it's so easy. Just combine everything into a bowl and mix it up with a fork until blended and crumbly.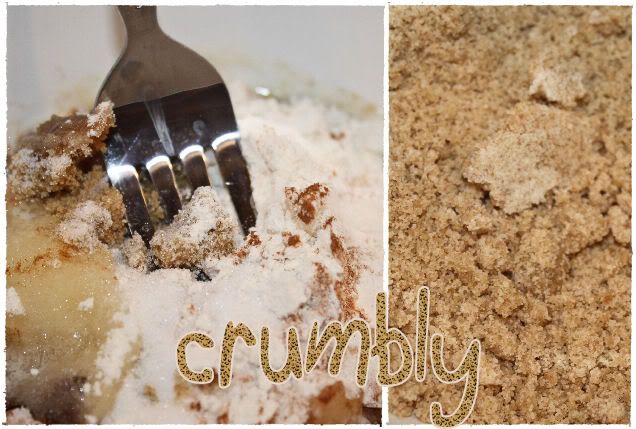 Sprinkle half the streusel over the top of the cake batter, and bake for 25 minutes at 350. After 25 minutes, sprinkle the rest of the streusel over the top and bake another 15 minutes. Let it cool a bit, and serve warm with fresh cream and fresh berries or candied grapefruit peel for an absolutely sinful touch.
Enjoy and happy eating!