Spring is finally here, friends! With rain and flowers come a whole slew of holidays as well. With Passover drawing to an end and Easter about to begin, you might prefer to shut your eyes and kick your feet up rather than slave in the kitchen, whipping up goodies. Well, you're in luck! Mother's Day is right around the corner too, and if you're a mom, kicking your feet up is the name of the game.
However, before we get pampered and spoiled by OUR families, we need to remember our own mothers and make sure the day is just as special for the women who raised us and put up with our childhood shenanigans year after year.
No matter what you have planned for your Mom this year, a little something sweet always makes any day a bit nicer. And what with the flowers blooming and birds singing, that something sweet is all the better when it's bright and bursting with fresh flavor.
Lemon curd! I know the name isn't glamorous, but the flavor definitely is. Thick and creamy, lemon curd is a basic lemon custard that can be used an a million different ways. It can be the bottom of a lemon meringue pie. You can schmear it on toast or muffins (lemon curd on a blueberry muffin? Get out of town, it's to die for!) Or, of course, there's always my favorite way--just eating it with a spoon.
These cookies and curd are perfect for a ladies' tea, brunch, gift baskets, dessert, you name it! And it doesn't take more than the wink of an eye to get everything put together, which leaves more time for you to sit with those feet up!
Normally, lemon curd requires a lot of standing and stirring. It's a custard, after all, and custards are delicate. They take patience and a gentle hand. But not this lemon custard, oh no. This custard is a badass. You can make this in a microwave! Ha! Isn't that amazing?
1 microwave + 8 minutes = thick, luscious lemon heaven.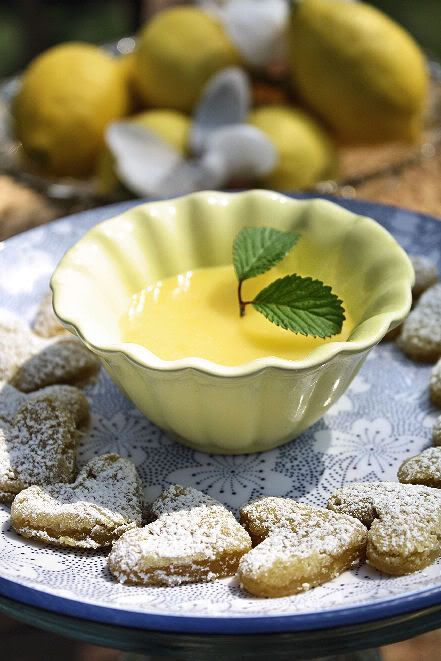 Ingredients:
Recipe makes four 1/2-cup servings
1 cup white sugar
3 large eggs
1 cup fresh lemon juice
3 lemons, zested
1/2 cup unsalted butter, melted
In a heavy, microwave-safe bowl, whisk together the sugar and eggs until smooth. I really recommend using a hand mixer to get a nice, velvet consistency. Smooth is key.
Stir in your lemon juice, zest and butter. Make sure it's well blended. Give it a few beats with your mixer if you want to.
Now, here's the magic part. Zap it in the microwave for one minute. Take it out and stir it well. Repeat. You're going to do this 8 times. To make it simpler, just set the microwave for 8 minutes, and open it after each minute to stir.
At the end of your eighth stir, the mixture will be thick enough to coat the back of a metal spoon. Remove from the microwave, and pour into small sterile jars, ramekins, bowls, whatever you like. Let it chill thoroughly before serving. It cans really well, if you felt like doubling or tripling the recipe.
I piped my lemon curd into pretty little swirls in pastel custard cups and garnished with fresh blackberries and a little greenery. I also served this with delightful, bite sized lemon cookies.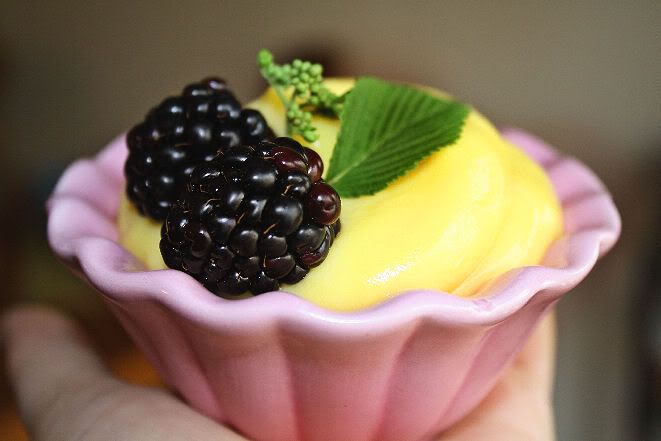 But wait! There's more! Would you like the recipe for the lemon cookies, too? Well of course! They are just fabulous. And at the risk of sounding like an 80 year old woman with her crochet needles and 20 cats, they are positively
darling
.
Little Lemon Bites
2 cups all-purpose flour
1 teaspoon baking soda
2 sticks butter, softened
1 cup white sugar
1 (3.5 ounce) package instant lemon pudding (Jello brand is OUD)
2 eggs
1 teaspoon lemon extract
Powdered sugar for dusting
Cream together your butter and sugar with a mixer. Add the baking soda, dry pudding, eggs, and extract. Mix until evenly blended. Gradually add flour and stir with a spoon. The dough may be slightly sticky. Wrap it in plastic wrap and refrigerate for an hour or two. Overnight is preferable, but I know, you're impatient. It's okay, so am I.
Roll dough out onto a clean workspace and, using 1" heart cutters (or really, any shape you like) to cut out cookies. I will forewarn you that these will make an absolute TON of tiny cookies. So if you don't want a couple hundred little hearts, it might be best to make regular sized drop cookies with half the batch, and cut out your little bites from the rest.
Line a baking sheet with parchment and bake cookies at 350 degrees F until JUST set. They won't be golden brown, and may look slightly underdone. That's what you want. Remove them from the oven and let them finish baking in their own heat on the cookie sheet. When cooled, transfer the cookies to a countertop or rack and dust lightly with powdered sugar. I use a small mesh strainer, and it works beautifully.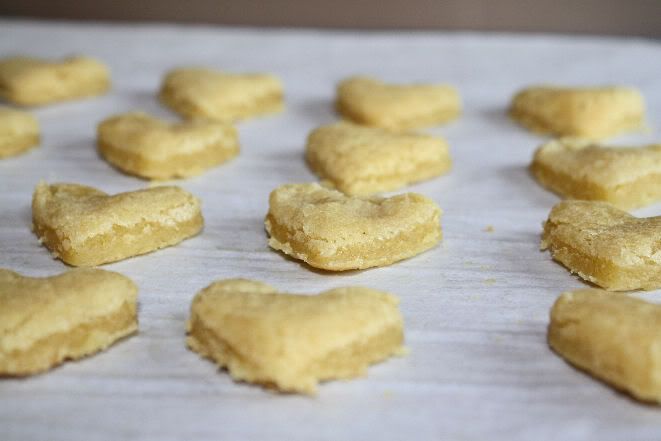 Enjoy and happy eating!
P.S. Oh OH!!! You know what would be
awesome
!?! Using the lemon cookie
dough
as a crust for a lemon meringue pie, using the
curd
as the filling!! Top with whipped cream or meringue, and oh.... oh!! I'm so excited. I need to do this. And so do you.