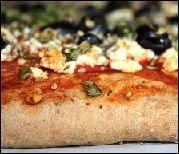 Every now and then, even the most devoted of dieters craves something a little crusty and covered in sauce. Something a little cheesy. Something a little...oh, dare I say...naughty?
I'm far from a devoted dieter, but with summer fast approaching, I am definitely watching what I put in my mouth a little more closely. But while I'm doing that, my palate doesn't have to suffer. Healthy food doesn't have to be a parade of boring salads or plain chicken breasts, oh no. In fact, the healthiest foods are usually abundant in color and flavor.
Think of all the dirtiest comfort foods people usually turn to--mac and cheese, mashed potatoes, cake, butter, chips, bread, cheese pizza... it's all different shades of brown. That's not pretty. And anything boring to look at probably isn't too healthy, either. Mother Nature is
not
boring.
The beauty of pizza is that you can put anything on it. There are a million substitutions you could use in place of a processed, starchy crust and gooey mozzarella to make your homemade pizza a little lighter, and a lot more fresh.
I made my own crust from scratch--the slow, old fashioned way--adding in herbs and parmesan for an extra boost of flavor. Then I smeared it up with tomato sauce and piled on the fixin's. I ended up with a fresh-as-you-get pizza pie fit for a king, and large enough to share. And at about 1200 calories for the whole pie, you can share with one or two special someones and still have enough room in your calorie budget for dessert!
What you'll need for 2-3 servings (makes a medium pie)
This recipe can easily be doubled for a larger pizza
This recipe is vegetarian.
To make it kosher dairy, omit the parmesan or use OUD parmesan cheese
To make it vegan or kosher pareve, omit the parmesan and feta and replace with veggie or soy cheese
Crust
3/4 cup warm water
1 1/2 teaspoons active dry yeast
1/2 teaspoon white sugar
1 1/2 teaspoons olive oil
1/2 teaspoon salt
1 cup whole wheat flour
3/4 cup all-purpose flour
1/4 cup grated parmesan
3 tablespoons dried Italian blend
Toppings
1/2 cup plain tomato sauce, in a jar, can, or homemade
4 ounces crumbled feta (I used tomato and garlic flavor)
1/2 cup large black olives
3 green onions, diced
2 tablespoons minced, roasted garlic
Handful fresh basil, julienned
Spices to taste
(I used oregano, thyme, and dried basil)
Here we go.
Preheat your oven to 375 F and line a flat baking sheet with parchment or foil.
In a bowl, dissolve your sugar in the warm water. When it says warm, I mean about 100-110 degrees. Keeping in mind that the average body temperature is about 99 degrees, it should be JUST warm to the touch. Get it too warm, and you'll kill your poor little yeasts.
When sugar is dissolved, sprinkle the dry yeast in an even layer across the top of the water. Try not to swish it around too much. Let it stand about 10 minutes. The water will be cloudy, with a layer of foamy yeast around the edges and just below the surface. It'll smell like fresh bread.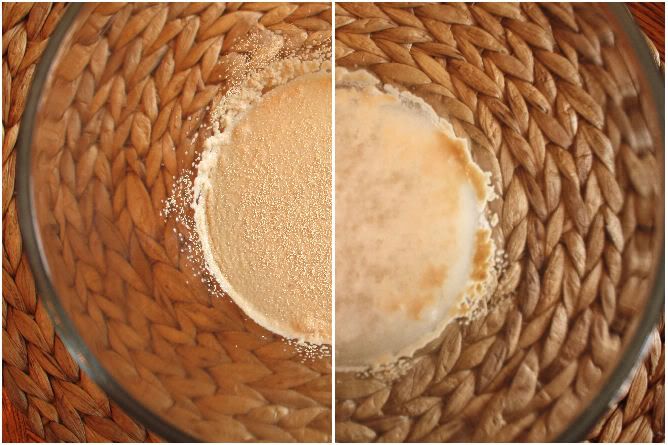 Meanwhile, assemble your other ingredients.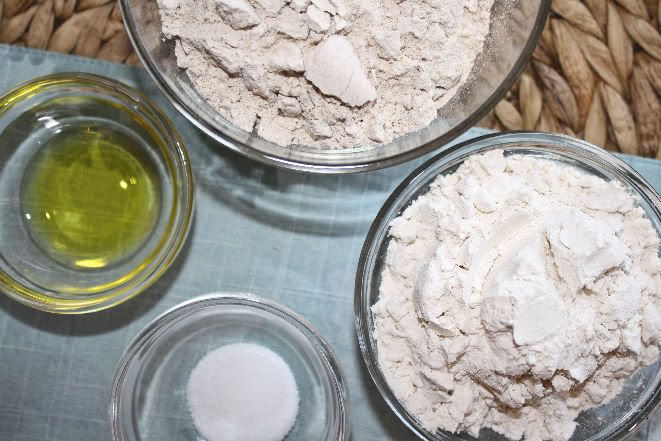 When yeast is foamy, whisk in your oil and salt. In baking, measurements are important. The sugar helps feed the yeast and make it more active, while the salt inhibits the yeast and keeps it from going all crazy on you. Too much or too little of either, and your bread won't turn out.
Add your flours and blend with a spoon until the dough comes together and easily pulls away from the sides of your bowl.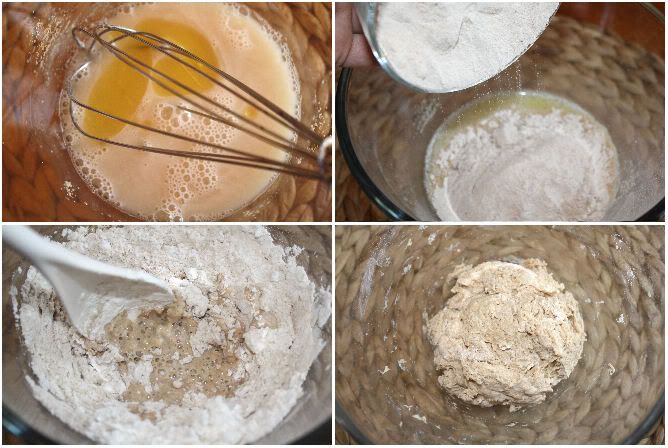 Turn your dough ball onto a well floured work surface and gradually knead in flour until the dough is no longer sticky.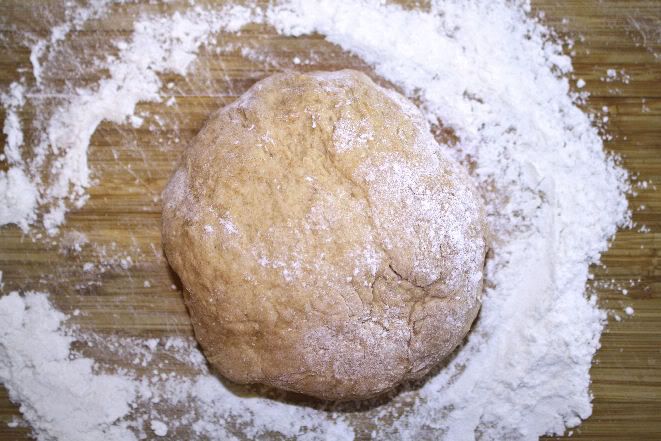 Oil the inside of the bowl and return the dough-ball to it. Cover with a sheet of plastic wrap and a clean dish towel and sit the bowl somewhere warm and dark to rise. Since the towel completely covered my bowl and kept it dark, I put it outside in the sun to warm. Don't clean your work surface yet, we're not done.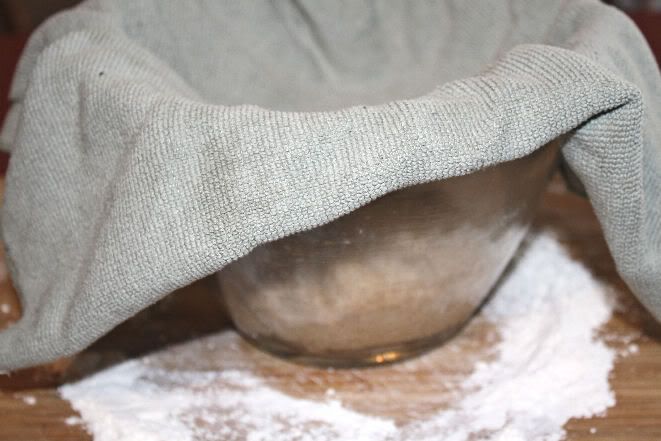 Give it about an hour to rise. It should double in volume and become soft and squooshy. When you poke your finger into it, there should be little resistance, and the dough should hold the shape.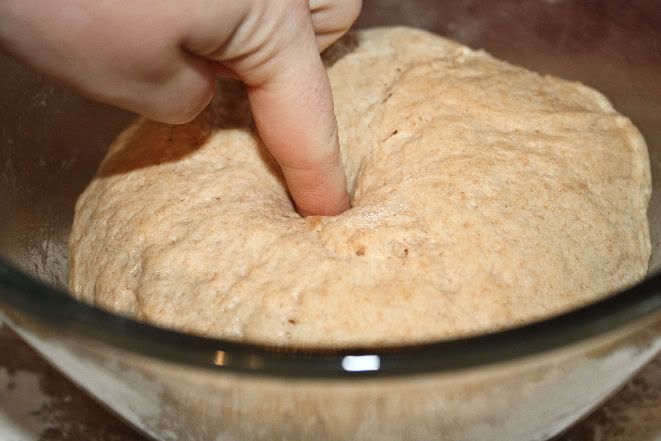 Now, turn out the risen dough onto your floured work surface again. It may be a bit sticky again. Knead it gently into the flour until the dough is smooth and elastic.
My dear grandmother sent me a marble rolling pin last week for an early birthday gift. It came in incredibly handy today. With a rolling pin, roll out your dough into a circle or whatever shape you desire. It should be about 1/2" thick.
Add your italian blend and parmesan to the center of the dough and spread it out. Fold the dough over into thirds, and then into thirds the other direction. Then knead it out until the add-ins are well incorporated and the dough is smooth.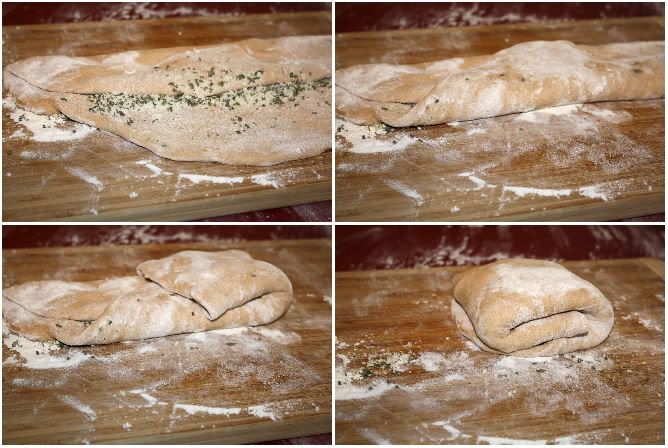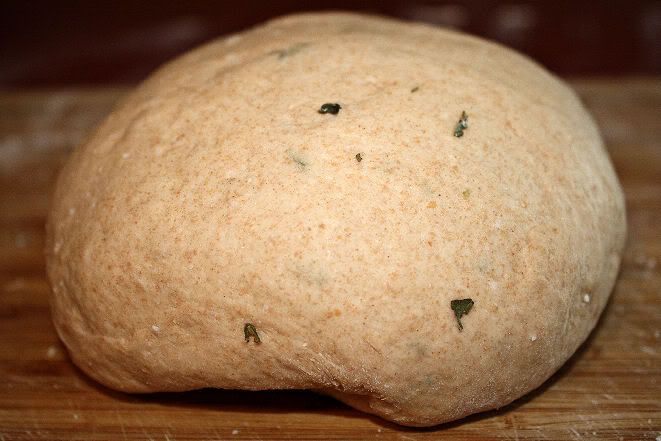 Roll out your dough into the same 1/2" thick disc again.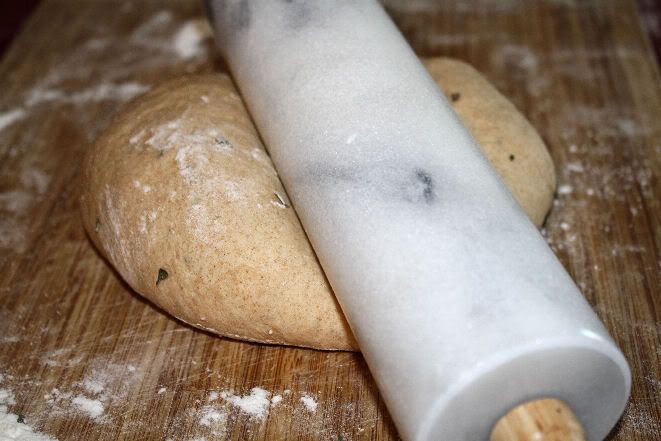 See, isn't that just an awesome rolling pin?? I love it. Thank you, Gram!
Transfer your dough to your baking sheet.
Spoon your tomato sauce across the surface, leaving about 3/4" around the edges. Of course, if you like your pizza to live on the edge, go ahead and cover the whole thing. It's your world, do what pleases ya.
Add your feta next, and then pile on the toppings. Be sure not to go TOO overboard, though, or your pizza will end up heavy and soggy in the middle.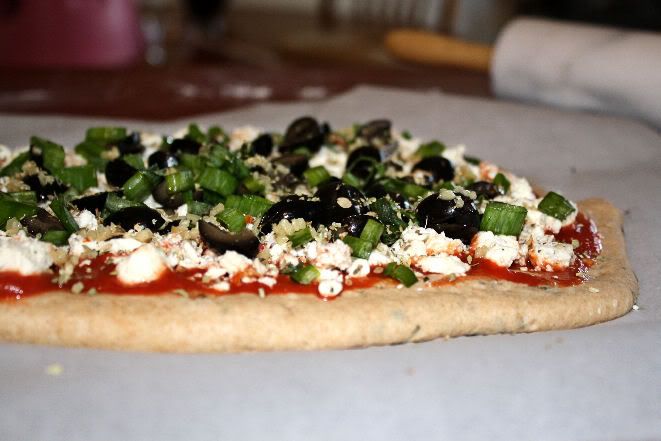 Make sure your oven is nice and hot and pop that baby in there.
Let it bake about 15-20 minutes until the crust is crispy and the cheese is melty.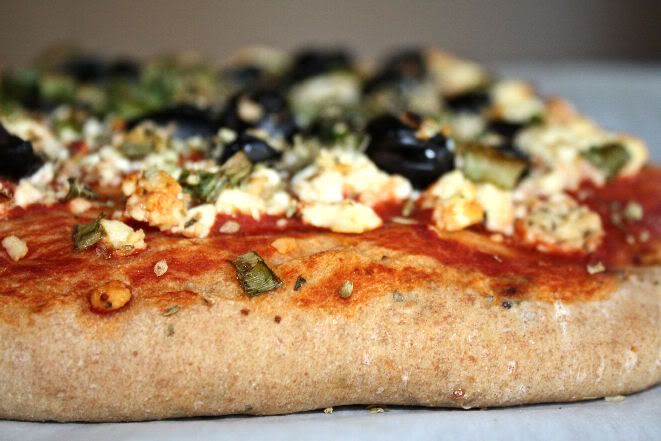 While it's baking, chop up that fresh basil. We don't want to put the basil on before baking because it'll turn brown and wilty, and it's not so pretty. Plus, unbaked basil has a much more fresh, potent flavor. It really does taste just like springtime. Yum.
When the pizza is all finished baking, pull it out and add the fresh basil on top.
There now. Isn't that pretty?
Slice it up and enjoy! Happy eating!