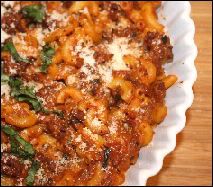 Hello, friends! Good to see you.
My kids and I were strolling through the grocery store today, buying some staples and ingredients for this weeks' Food Forum ingredient challenge. My son spotted a can of Chef Boyardee Beefaroni and asked if we could have that for dinner. Now, I'm not gonna go all snobby on you and claim that the Chef and I haven't had an on-again-off-again romance most of my teenage and early adult life. I
still
find myself craving those raviolis now and again.
However, beefaroni is one thing that should just never, ever be eaten from a can. It's too delicious made from scratch! Or even kind-of from scratch. I'm channeling the
Horrific-Hanukkah-Cake
queen, Sandra Lee, folks. This recipe mostly comes from various packages, with a handful of fresh ingredients, but it's FAR better, even in its semi-homemade state, than any canned beefaroni you'll find on a shelf. Not to mention, it's entirely vegetarian, low fat, and kosher (dairy). And the kid loves it! Win/win!
Just please--let's keep this between us. The Chef doesn't need to know, m'kay?
What you'll need for 4 servings
To make this dish kosher pareve, omit the parmesan and add a pinch of salt or nutritional yeast.
To make it vegan, omit the egg and the parmesan.
- 1 lb meatless crumbles (I used
Boca crumbles
)
- 1/2 white or yellow onion, finely minced
- 2 cups dry whole grain elbow macaroni
- 1 jar of your favorite pasta sauce
- 1/4 cup fresh basil, finely minced
- 1/4 cup dry grated parmesan
- 1 tablespoon minced garlic
- 1 large egg
Oh, and just for giggles, I worked out the calorie content. My recipe made four generous servings at 460 calories per serving. You could easily divide it up into 6 more moderate servings for only 311 calories per serving.
How we roll:
In a large skillet, combine your diced onion, basil, and garlic. No oil is needed, but if you want to add a little olive oil, go right ahead. Stirring occasionally, let them all cook together until golden brown and soft. If you like bigger pieces, of course, keep them bigger, but since I'm feeding a kiddo here, I minced mine fairly fine.
Oh yeah, and while you're cooking down the onions, get a large pot of salted water boiling. And preheat your oven to 350ish degrees F.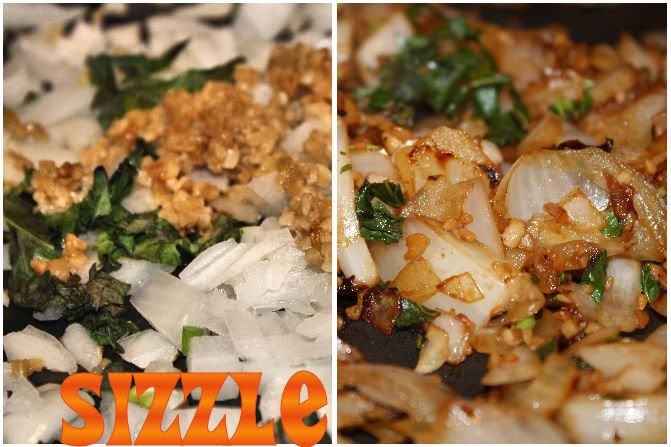 When onions are golden and your kitchen smells amazing, add your meatless crumbles and tomato sauce. Stir to blend everything together, cover, and let simmer about 7-8 minutes. Or, you know, however long you want. This is truly a throw-together recipe, so it's all you. Whatever makes you smile.
When your water is boiling, add the macaroni. Let it boil about 8 minutes until al dente. Turn off the heat, cover, and let them soak a minute or two longer.
When the macaroni is yummy, drain it and fold in your "beefy" sauce. Stir. Lookin' tasty now, eh? Let it cool for a few minutes, and then add your egg and parmesan. Stir well.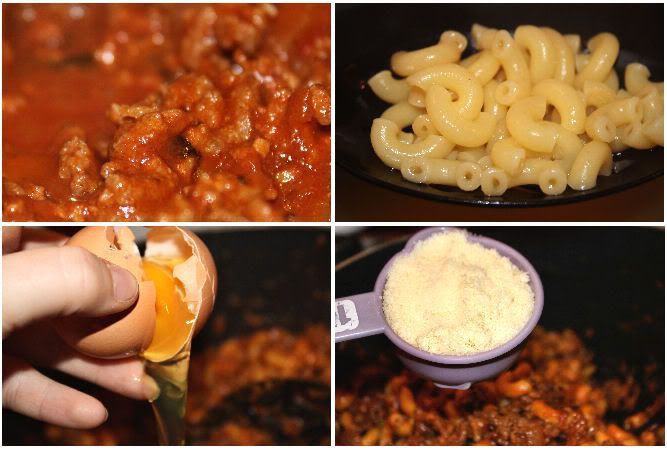 Spread everything into a casserole dish and bake in your preheated oven about 15 minutes until set. You'll want to let it cool a bit before digging in so that the casserole will hold its texture. I garnished mine with a bit of parmesan and julienned basil.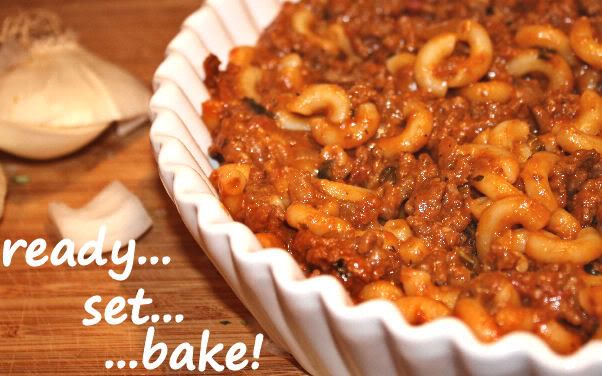 The kiddo's been poking his nose into the kitchen all night, trying to see when dinner is gonna be ready, so I'm going to go eat. You should, too. Oh, and to truly make this a Sandra Lee meal, pour yourself a cocktail while you're at it.
Enjoy, and happy eating!