Buckle up, peeps.
We're gonna go on a crazy ride. We're gonna make cake. But not just any ol' cake. No.
Cake with cocoa. And chocolate milk.
Filled with whipped ganache.
Crowned in a cloud of chocolate buttercream.
Dipped in dark chocolate ganache.
Holy moly, right?
Shockingly, these cupcakes, as explosive as they are with chocolatey goodness, are not too rich to eat. The bittersweet chocolate counteracts the sweetness of the buttercream and gives you a nice balance, so it's decadent, but not cloying.
The cake is fudgy and thick, a bit like a brownie. It holds up well to all this deliciousness. When I first saw the recipe, I was a bit taken aback to see the addition of boiling water, but the reviews were awesome, so I went with it. And I'm so glad I did. These things are tremendous.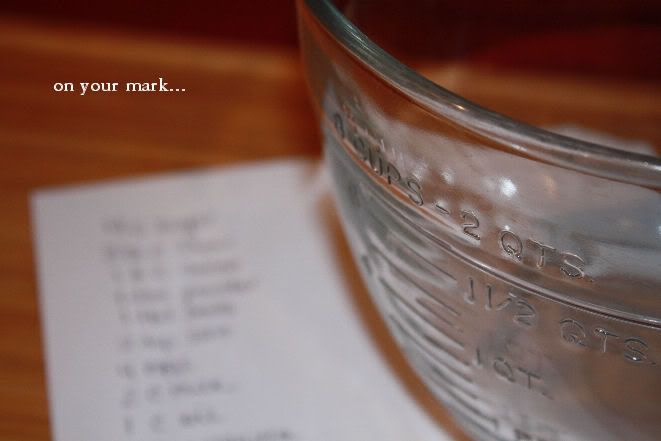 We're gonna start out mixing out sugar, flour, soda, powder, cocoa, and salt in the bowl of a stand mixer.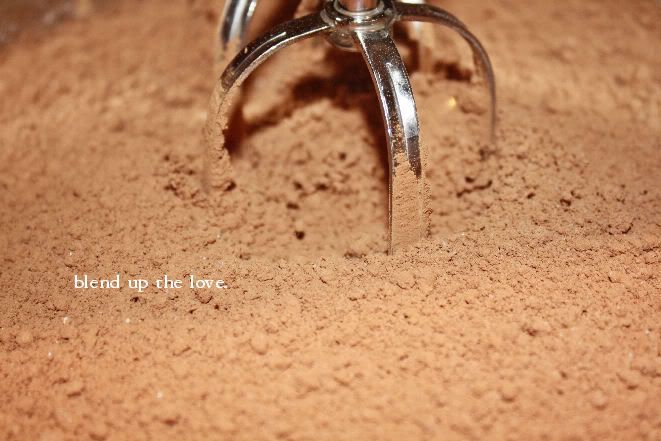 Still mixing, add your eggs. Don't drop them. That gets sticky.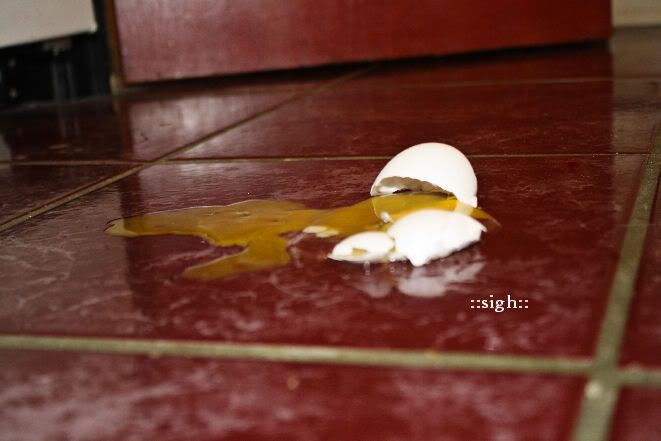 Along with oil and coffee liquor, we'll add some chocolate milk for a lovely boost of flavor. There's no such thing as too much chocolate. Or liquor. Steal a nip for yourself while you're at it.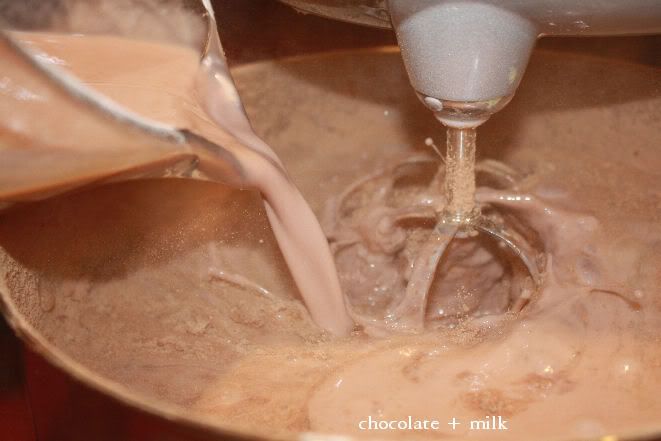 Now, mix it up, baby. It'll be kinda thick.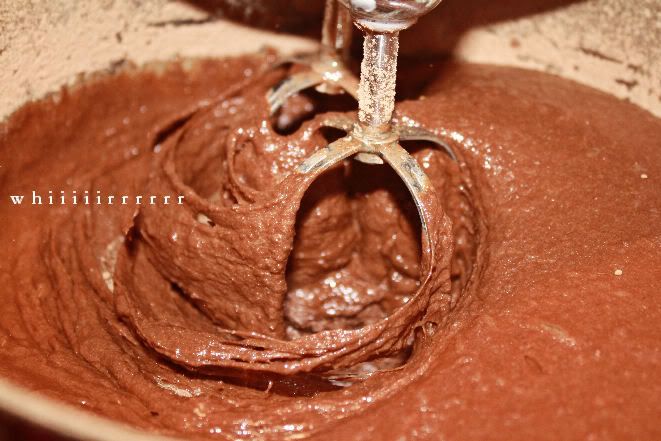 When it's well blended, with no lumps, add your boiling water. I know! Crazy! Water! Who'd have thought?
Now. Blend it all up, stick it into lined cupcake pans, and bake. You'll be shocked how dark and luscious they come out.
See?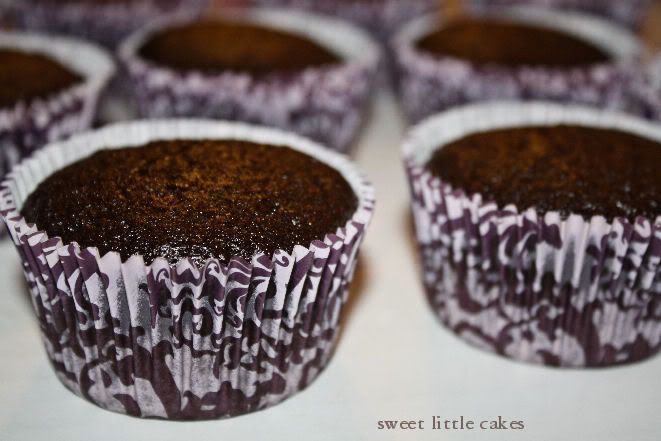 Now, time for frosting! My favorite part.
This frosting is totally
Bakerella's
dreamchild. Because she's amazing. And so is this buttercream. Butter, sugar, cocoa, cream cheese... oh yes. This frosting is
sexy
.
So, we'll whip up a batch of fudgy fluff and set it aside for now.
And now for the crowning glory. Literally. The ganache. This ganache plays two roles in this recipe, so you'll want to make sure it's awesome. Use good chocolate. I recommend Ghiradelli.
Stir until it's glossy and beautiful. If you're dancing in your kitchen humming songs from Willy Wonka right about now, you're definitely a friend of mine.
Now, I'm a crappy blogger and forgot to take pictures of this next part. I blame the chocolate. I might have been in a cocoa-coma. That's a thing.
Separate the ganache into two bowls. One deep, one wide. Set the deep dish aside. We'll get to it. I promise.
In the wide bowl, use a hand mixer to whip up the ganache. It's like magic! I squealed.
It starts deep and glossy, and ends up like a fluffy, pale cocoa mousse. It'll look a lot like your buttercream.
Spoon the whipped ganache into a piping bag with a wide tip (or no tip). Using a paring knife, hollow out your cupcakes. This would be a most excellent time to eat some cake bellies.
Pipe the whipped ganache into your cupcakes. It's getting good now.
I'm really sorry I don't have photos of this part. Total brainmelt. When chocolate is involved, sometimes I get a little loopy.
Anyway, swap out the whipped ganache for buttercream in your piping bag. I used a 1M open star tip and swirled on the buttercream like a delicious little hat. You'll want a nice little heap of it for the next part.
Oh! And stick 'em in the freezer. About 20 minutes should do it.
Here comes the bit about the deep container of ganache. Toldja we'd get to it.
Careful now. These chilly cupcakes are going skinny dipping.
Take a deep breath...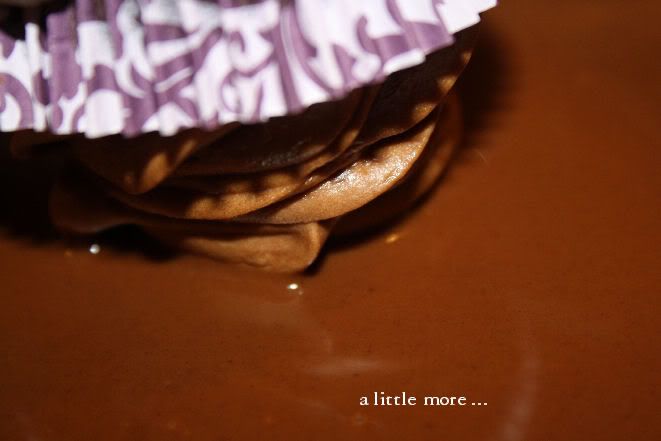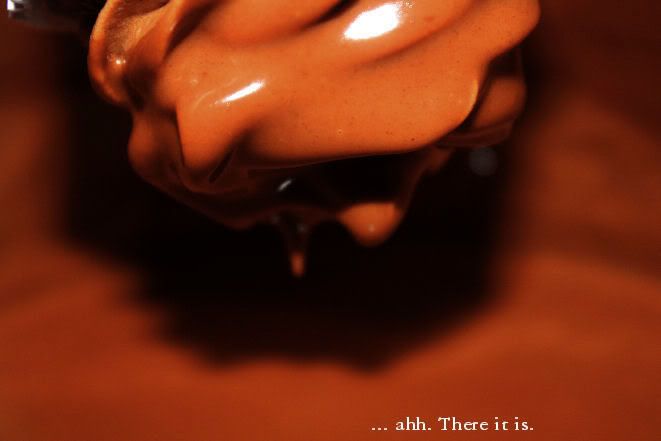 Whew. Now look at that. You've got yourself some serious chocolate.
I'll see you soon for part 2. There's more.
Enjoy, and happy eating!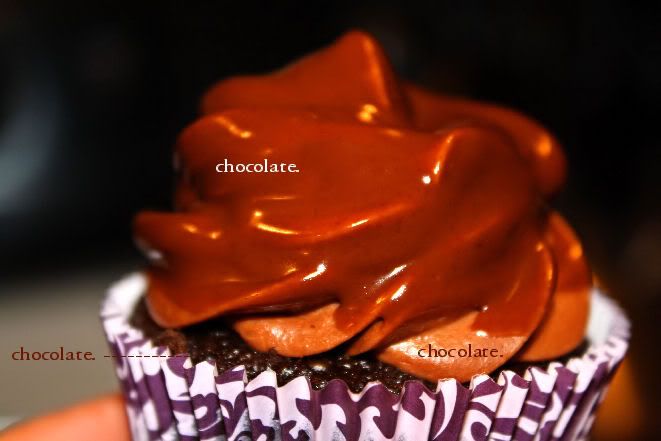 Chocolate cake
:
Recipe adapted from
this one
by Shirly O.
2 cups white sugar
1 3/4 cups all-purpose flour
3/4 cup unsweetened cocoa powder
1 1/2 teaspoons baking powder
1 1/2 teaspoons baking soda
1 teaspoon salt
2 eggs
1 cup chocolate milk
1/2 cup vegetable oil
2 teaspoons coffee liquor
1 cup boiling water
Preheat oven to 350 degrees F.
In a large bowl, stir together the sugar, flour, cocoa, baking powder, baking soda and salt.
Add the eggs, chocolate milk, oil and liquor. Mix for 2 minutes on medium speed of mixer. Stir in the boiling water last. Batter will be thin. Pour evenly into the prepared pans.
Bake 20 to 25 minutes in the preheated oven, until the cake tests done with a toothpick.
Bittersweet ganache
:
2 pints heavy cream
12oz bittersweet Ghiradelli chocolate, chopped
In a medium saucepan, heat the cream to a simmer. Do not boil. Remove from heat, and add the chopped chocolate. Whisk until well blended, thick, and glossy.
Chocolate Buttercream Frosting
:
(Thanks, Bakerella!)
1/2 cup butter, softened to room temperature
8 oz. cream cheese, softened to room temperature
1/2 cup unsweetened cocoa powder
1 box (1 lb) confectioner's sugar
1 tsp vanilla
1-3 Tbsp milk
Cream the butter and cream cheese with a mixer.
Add the cocoa and vanilla.
Add the confectioner's sugar in small batches and blend on low until combined. Scrape down sides with each addition.
Add 1 tablespoon of milk at a time until you get the consistency you desire.