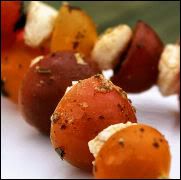 With spring fast approaching, you may be entertaining daydreams of family picnics, flowers abloom, and sunny skies. Along with spring comes fresh flavors and lighter dishes. Winter has passed, friends--it's time to put down the cakes and stews, and break out something juicy and organic.
Caprese salad is one of most simple, elegant salads on a traditional menu. Fresh, bright basil paired with creamy mozzarella, all brought together with plump, ripe tomatoes. How can you beat
that
??
Well, for starters, you can make it mobile. Everyone loves food to go, and kebabs are a festive way to wrap up your salad to be eaten on the move. Whether socializing, flitting from person to person at a party, or piled onto an hors d'oerves platter and served, these little beauties are sure to please, and bring a classic spring salad to a whole new level.
What you'll need:
Recipe is kosher dairy and vegetarian. Vegans could substitute the mozzarella with chunks of soft tofu and use homemade vegan pesto.
- 1 pint plump cherry tomatoes,
not
refrigerated
- 6 oz high quality fresh mozzarella, pearled or cut into cubes
- 2 tablespoons pesto
- 1/2 cup fresh basil leaves, minced, about 10 leaves
- 2 tablespoons extra virgin olive oil
- 2 tablespoons balsamic vinegar
- 12 kebab skewers
Rinse and halve your tomatoes. I used multicolored heirloom tomatoes because they were just gorgeous. However, you can always use regular red tomatoes for a more classic look. I did a little taste test before I made these. The small yellow tomatoes had a thick skin and a slightly sour tartness. The large purplish ones were my favorite--super juicy, with a sweetness that tasted a little like grapes. Amazing.
Into a medium bowl with a lid, mix your pesto, vinegar, oil, and minced basil. I
so
wish I had Smell-O-Web so I could share with you this amazing aroma. It's like springtime in a bowl!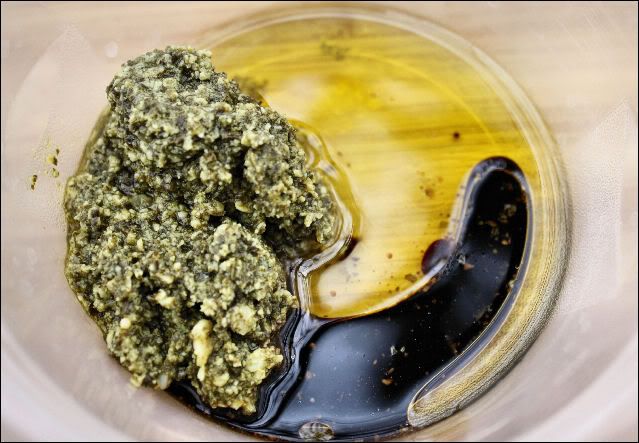 Add your tomato halves and stir well to coat. Cover, and let marinate for an hour or two. The tomato is going to absorb alll that luscious flavor. Lucky tomatoes.
When tomatoes are done bathing in deliciousness, get out your skewers and mozzarella.
Alternately skewer your tomatoes and mozzarella. You can make these kebabs totally your own--as big or small as you like them, adding fresh basil leaves between the pieces, adding olives or pepper, whatever you like! Go crazy!
Your guests will get a pop of that beautiful basil flavor with every bite, as well as a little zip from the vinegar and pesto. Enjoy, and happy eating!