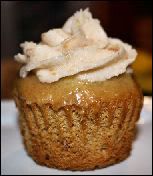 I am writing this post in a cloud of resentment. Bitter, pouty, pure resentment.
I have had this idea in my head for weeks-- strawberry cupcakes with mango glaze and a berry-mango buttercream frosting. It sounded so amazing. So I went and bought all my supplies and got to work.
The cupcakes ended up tasting absolutely perfect. Fluffy, spongy, soft... The buttercream, a silky cloud of creamy mango delight. Wonderful. So
why
am I so damn resentful?
Because these things were an experiment, and as many experiments do, mine went horribly awry. In the process of perfecting the recipe, I ended up wasting an entire pound of butter, 4 eggs, a whole mango, half a quart of strawberries, and an entire bag of powdered sugar. I
went to the store
to restock supplies I used up while creating vaguely mango-flavored abominations that the most desperate Survivor contestant wouldn't even dare to eat. That's commitment, people! It does make me sad, though, to think of how much fruit had to suffer in the name of dessert.
But that, friends, is precisely why this blog exists. So
you
don't have to go through the agony of trial & error. I can take care of that end and simply share with you the end result and the path that led me there, for better or worse.
Anyway, the real resentment lives because, at one point about halfway through my third attempt, I started feeling relieved it was going so badly. I thought, "Well, since this recipe totally flopped, I don't have to blog it. I can just shove it into the trash and pretend it never happened. Nobody will be the wiser." But then tragedy struck-- they actually turned out super delicious. Too delicious not to share. And pretty!
Sigh.
So I kept going.
But it should be known that while my kitchen usually looks something like this: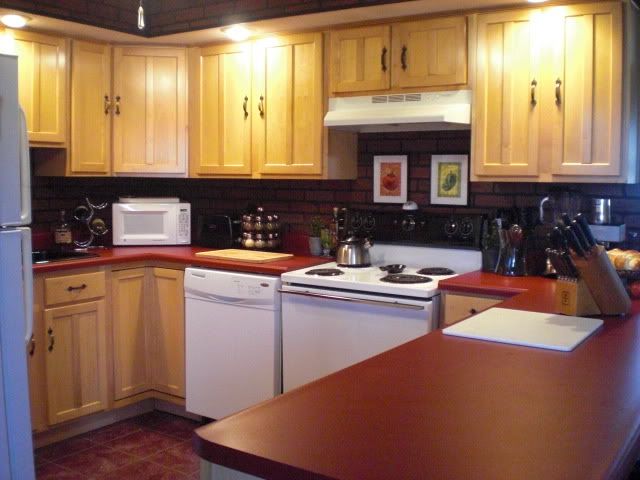 When I was finished with these cupcakes from the devil, it looked like this. I'm too ashamed to post a pic of the entire thing. It was even messier than when I made
the Charlotte
! Yikes! I had used every bowl in my well-stocked inventory, and had completely run out of usable counter space. What's that you say? Clean as I go? Psh!
Again...
Sigh
.
Anyway, I know a lot of people will call it cheating, but I started this recipe with a boxed mix. Yeah, yeah. After spending 5 hours (5
hours!!
) tweaking these things, I'm grateful for the shortcut, thankyouverymuch.
Anyway, this is what I did for the cupcakes themselves.
Duncan Hines is kosher dairy. Jell-O pudding is Circle-K)
- 1 box Duncan Hines french vanilla cake mix
- 1 package (3.4oz) french vanilla instant pudding
- 1 cup orange juice (I used Simply Orange)
- 3 eggs
- 1/3 cup strawberry puree
- 1/4 cup oil
- 1 teaspoon ground cardamom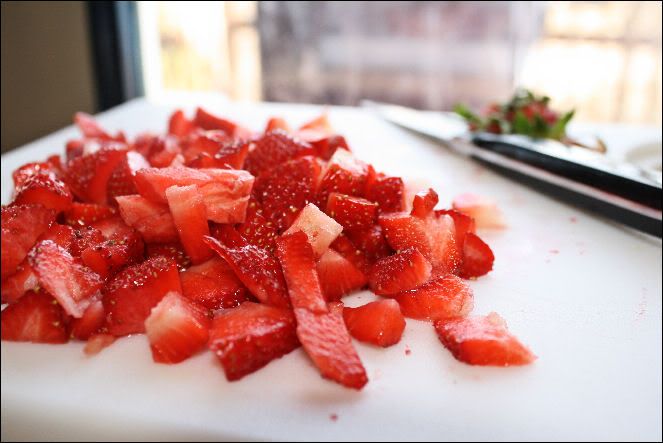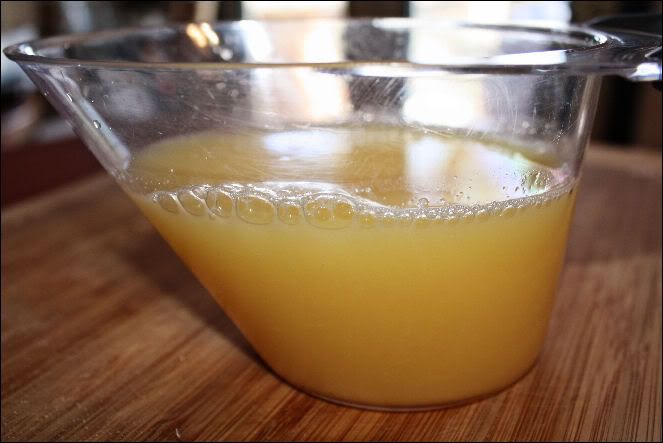 Preheat oven to 350 degrees F.
Because mixes tend to be a bit dense, I sifted the mix into a large mixing bowl, using a mesh strainer. This aerates the dry ingredients and keeps your cupcakes fluffy.
In a separate bowl, beat together your eggs, juice, strawberry puree, oil, and cardamom. Beat until very well blended and juicetastic.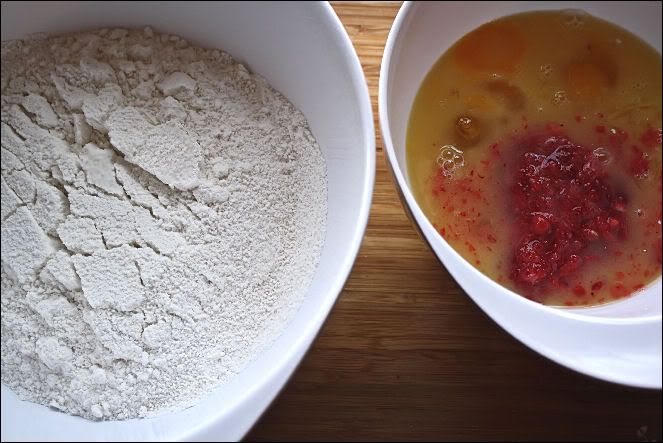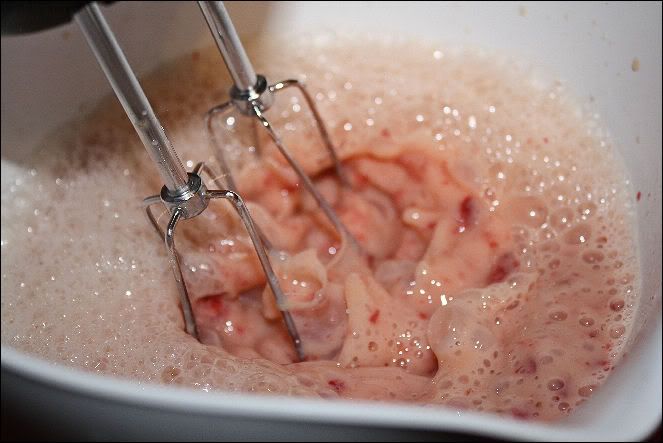 Pour the liquid mix into the dry mix and continue to beat on low speed until smooth and thick. Add your pudding mix. The color will deepen and take on a slightly yellowish hue, and the batter will get slightly thicker. That's good. We want that.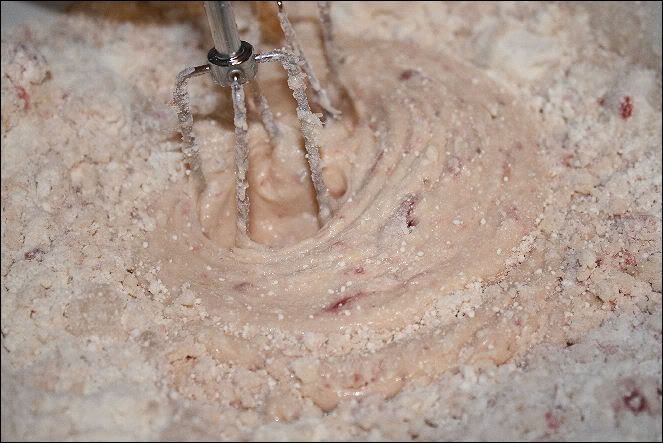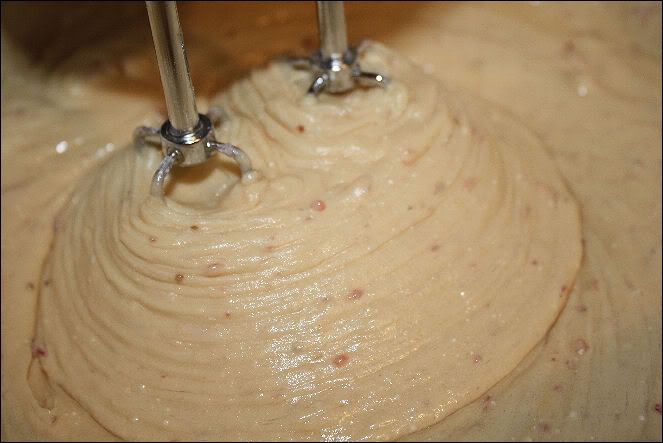 Pour batter into lined muffin tins. I wanted these to be small and petite, so I only filled them with a couple spoonfuls of batter. Maybe 1/8 cup each. Bake at 350 degrees F about until golden, about 15 minutes.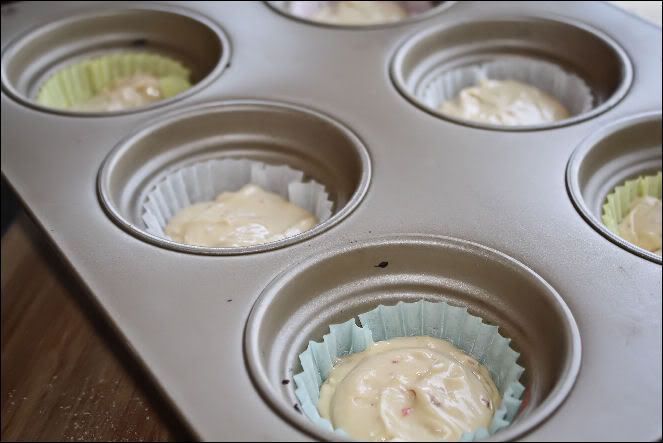 See, that wasn't hard, right? Nope. The cupcake part was easy. Annnnnnd...onto the glaze. Wait, what? Glaze?
And
frosting? What?
Yep. Because the cakes are so fluffy and the flavors so light, we can get away with doing a lot to these babies. You wouldn't be able to do this with more rich flavors like chocolate or cream cheese unless you wanted to induce a sugar coma.
Anyway, this light mango glaze is basically just a thin mango curd. You could continue cooking it to thicken it further and can it for use in pastries.
- 1 medium mango, chopped
- 2 eggs
- 1 stick sweet cream, unsalted butter, chopped
- 1/2 cup sugar
Puree mango in a small food processor or blender until smooth. Add your eggs and continue to blend.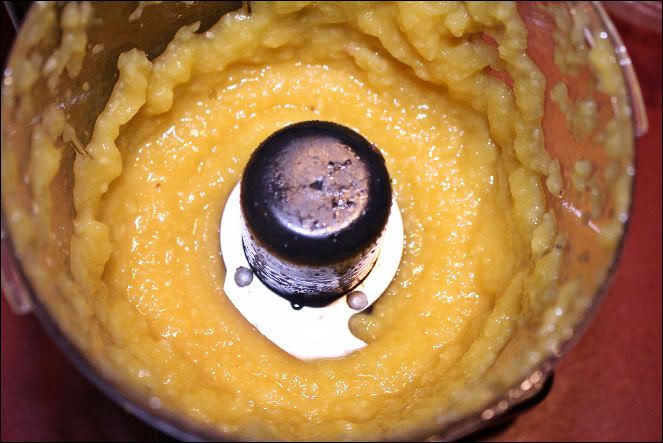 Transfer your pureed mix into the top of a double boiler and add your butter and sugar. Stirring often, cook over simmering heat until butter and sugar are melted.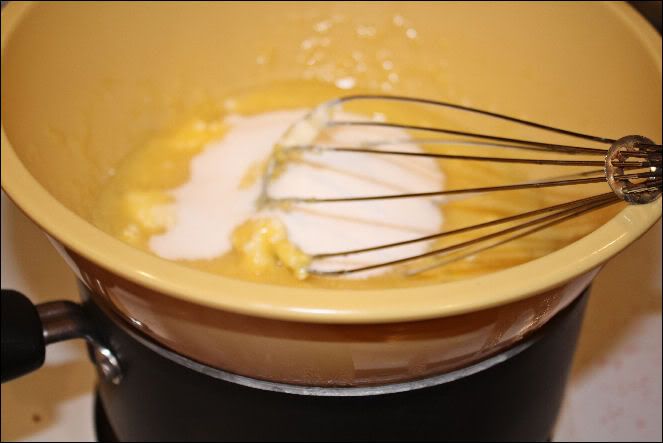 Continue stirring until the custard has thickened slightly and coats the back of a spoon. Like so.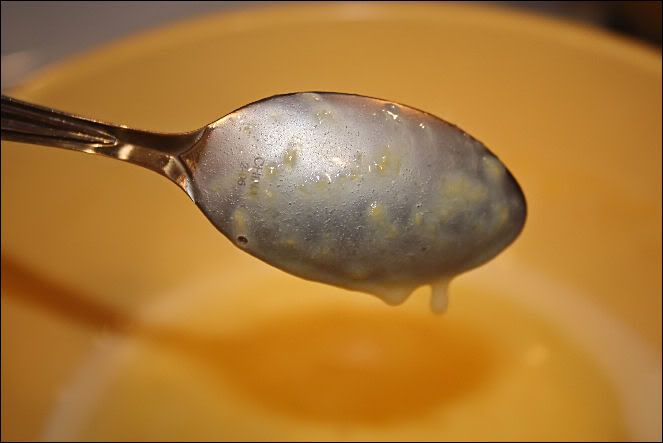 Again, if you continued to cook it about 10 more minutes, it would thicken into actual mango curd, and you could use it as filling or custard. Dip the tops of your cupcakes into the mango glaze and let cool.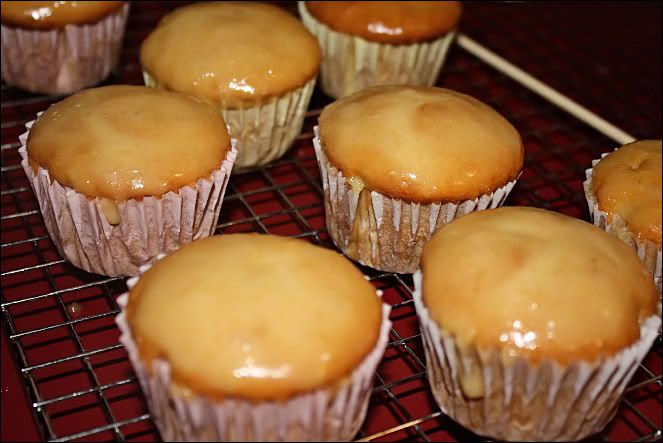 Now. Here's what sucked up most of my time today. And patience. The buttercream.
Standard buttercream, in itself, isn't usually difficult. But when you start messing around with adding fruit to it, it can get tricky. Certain fruits, like apricots and citrus, have enzymes in them that cause butter to curdle, so you have to be careful how you add them as flavoring to your frosting.
I won't bore you with my repeated attempts and failures. Let's just say my first attempt curdled. I won't even tell you what it looked like, for fear of forever ruining your appetite. My second attempt liquefied. It actually physically separated, leaving a solid cloud of egg cream on the top and a layer of watery liquid in the bottom of the bowl. (I was attempting a swiss buttercream, which uses eggs). Ew. Switzerland is ashamed of me.
My third attempt SEEMED like a fail, but turned out...well, rather perfect. Pay attention to the order in which this is written, though. The way the ingredients are added together is important.
Mango-Berry Buttercream
- 1 stick sweet cream butter, softened
- 2 cups powdered sugar
- 1/4 medium mango, chopped
- 2-3 large strawberries, chopped
- 3 tablespoons powdered sugar
Puree strawberries, mango, and 3 Tbsp powdered sugar in a food processor until smooth.
In a medium mixing bowl, whip together your butter and 2 cups powdered sugar. It will be crumbly at first, but keep on whipping. It'll get super thick.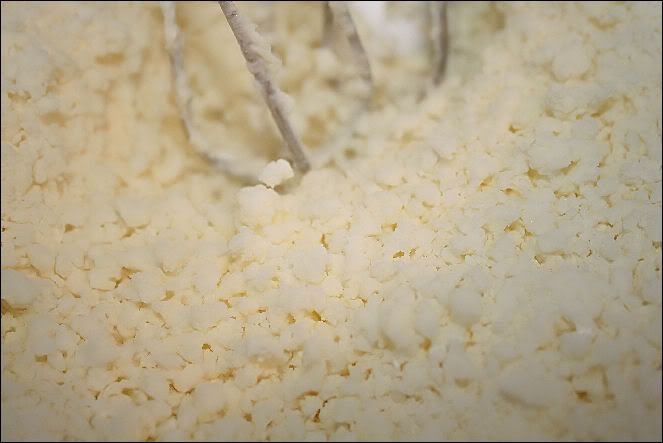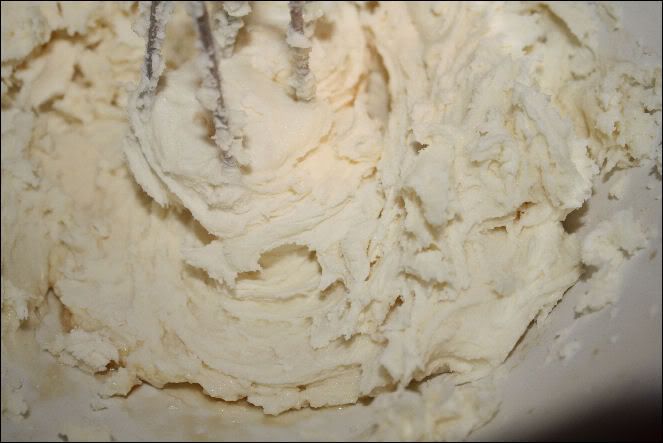 Add your mango puree and continue beating. Don't panic if it looks like it's separating. (I panicked. This is about when I started kind of hoping the whole thing would just die already and I could call it quits.)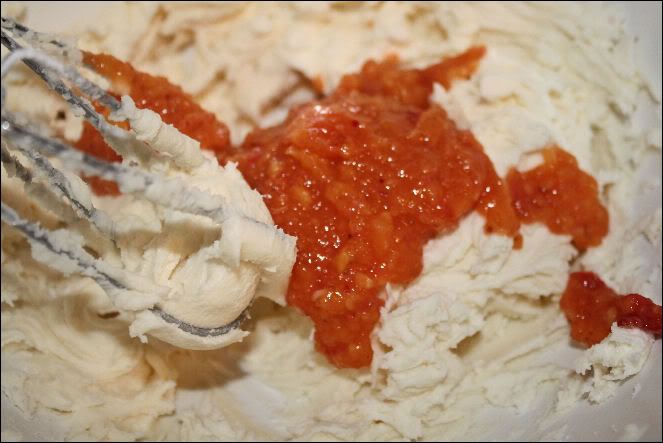 When everything is whipped into a frenzy, put your bowl in the fridge and let it set for a couple hours. When it is well chilled and firm, beat it again, and it will all come together--all lovely and smooth. This frosting WILL need to be refrigerated since it contains fresh fruit.
Using a wide piping tip, pipe frosting into pretty little rosettes onto your glazed cupcakes.
There ya have it! Pretty little strawberry cuppy cakes, glazed in mango custard, and crowned in luscious mango-berry buttercream. Believe you me, I would NOT have gone through the trouble of finishing and posting this recipe if they weren't absolutely worth every single curse word I uttered in the process.
Enjoy, and happy eating!