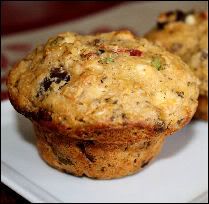 [Editor's Note, post script]
It's been about 5 hours since I made these, and I've eaten four. I double checked my ingredient list to make sure I didn't add crack somewhere along the way, but nope...didn't see any. So, fair warning: These things might cause your family to call A&E and hold an intervention.
[/Note]
I'll be the first to admit I went a little overboard when making breakfast this morning. It ended up being a bit of a "clean out your fridge" recipe. I started with scallions, sundried tomatoes, shallots, red pepper, and kalamata olives...and then I thought, "Wait! I still have that
artichoke bruschetta topping
left over. That'd be good!" And then when I plucked the jar out of the fridge, I saw a package of soy crumbles that I'd opened last week and need to be used. So I threw
those
in. And then I realized I had a container of feta I had bought for...something... and figured, why not?
It got away from me a bit. But I'm
so
glad it did.
I had been wanting to make something like a frittata for some time now, and when my 5 year old son crawled into bed with me this morning and asked what we were having for breakfast, that's what I figured I'd make. But I wasn't really in the mood for eggs. Once inspiration hit, I'm sure I got that glazed look again, and the mind went wandering.
Muffins may be the world's perfect food. Fluffy, tender, portable, and you can put just about anything into them. From blueberries to cheese to sausage, it's the most versatile food there is. "Salad", as varied as it can be, doesn't even come close because how often do you see someone managing to grab a salad on the way out the door and eat it while driving to work? Not likely. Eat your heart out salad, it's muffins for the win!
I often enjoy the simplicity of minimalistic recipes with only a few well chosen ingredients.
This is not one of those recipes.
While it can be said that less is more, I am an unapologetic fan of the idea that sometimes--
just sometimes
--more is more. And today, I want more. These ingredients all mingle together in one big, tasty, well attended par-
tay
. When I pulled these hodgepodge goodies from the oven, my mouth instantly watered. The garlic jumps out at me first, which is odd since I used very little of it. But then come the spicy shallots and scallions. Then the more rich undertones of the cream cheese and the subtle sweetness of the cornbread. My son and I gobbled them fresh from the oven. They didn't disappoint.
I started with a mix. I used Krusteaz Honey Cornbread mix, but that's about as far as I went with convention. The key to guiltlessly using a mix in your baking is to find ways to use it as an
ingredient
and create a whole new dish with it.
Here's What I Used
Recipe is kosher dairy and vegetarian
My recipes made 8 large muffins--like, the kind you find at Sam's or CostCo.
If you made more reasonable, normal sized muffins, you could probably get 12-16.
- 1 box Krusteaz Honey Cornbread mix
- 2/3 cup nonfat greek yogurt, plain
- 1/2 cup artichoke bruschetta topping
- 1/3 cup Philly's cooking cream, italian herb flavor
- 1/3 cup vegetable juice (I used V8)
- 1 large egg
- 2 teaspoons cracked black pepper
- 1 teaspoon garlic salt
- 1/2 cup sundried tomatoes, slivered
- 1/2 cup kalamata olives, sliced
- 1 bunch scallions, diced
- 2 tablespoons diced red pepper, jarred or fresh
- 1 large shallot, chopped
- 2 cups soy crumbles (you can also use ground beef or sausage crumbles if not vegetarian or kosher)
- 1 cup italian herbed feta cheese
I know!! That's a lot of stuff jammed into one little muffin. Well, one big muffin.
The recipe itself is absurdly simple-- sift your dry mix into a large mixing bowl. In a smaller bowl, whisk together the wet stuff--the egg, yogurt, cooking cream, juice, and spices. Stir the wet into the dry until it just comes together.
Chop and add in your mix-ins. Stir until well incorporated. There ya have it!
You can make it in a 9x9 pan, muffin cups, a loaf pan, whatever. To quote Bob Ross, "It's your world--you can do whatever makes you happy."
Bake at 350 until top is golden and a knife inserted in the center comes out clean. I actually have not been watching the clock, because I'm an irresponsible blogger, but I would guess it was about 35 minutes. It'll be longer if you bake in a solid pan.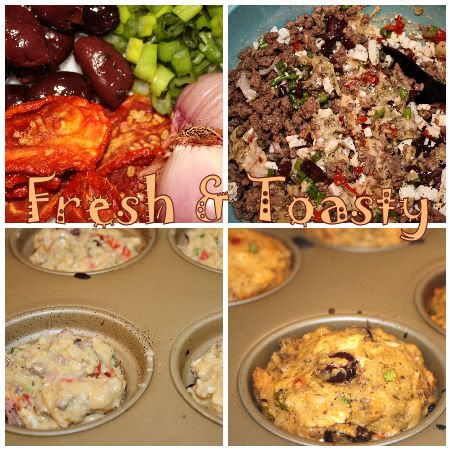 Smear your dangerously loaded muffins with maybe a little butter or sour cream, and enjoy! Happy eating!