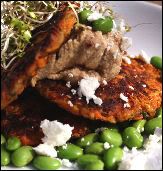 What a way to welcome in spring, eh? I say this in hesitant optimism. It's 75 degrees today, and I'm hoping that if I talk about spring often enough, it'll finally just haul its flowery butt in here and take a seat for a while.
I bought a bag of carrots yesterday while at the grocery store. I don't know exactly why--I don't really eat carrots all that often. It just seemed like an adult thing to do. Grown ups buy bags of carrots, yeah? I got them home and just looked at them on the counter. I've been told I look a bit glazed when thinking about food and recipes. Usually, I'll feel that little twinge of inspiration, and my brain clamors to hang onto it, which sometimes requires a whole lot of mental aerobics. So I'll tune everything out and stare at whatever it was that inspired me, while flipping through my mental Rolodex of flavors and textures in an effort to find that "aha!" moment.
So I'm staring at my carrots, probably looking a bit like a lobotomy victim, and finally something clicked.
I still had my food processor on the counter from my recent gooey butter cakeball attempt (which failed, but never fear--I have a plan!) and a photo I admired in the past popped into my head. I saw a recipe online a long while ago featuring potato latkes stacked high with a big dollop of sour cream between them, and topped in a bit of shredded arugula. I remember it being a beautiful plating, and figured I could shred these babies up and make my own variation of a copycat recipe. ...'cept with carrots. And sprouts instead of arugula. And hummus instead of sour cream. And edamame. So really, it's not very copycatty, is it? I may even go far as to call it an original!
Latke:
[laht-k
uh
] -noun.
A pancake, especially one made of grated potato.
Here's what you'll need for 5-6 latkes:
Recipe is vegetarian and kosher dairy
- 6 medium carrots, peeled, ends trimmed
- 1/2 cup Italian flavored breadcrumbs
- Handful of good quality basil (maybe a scant 1/4 cup?)
- 4 green onions, diced
- 1 large egg
- 1/8 cup grated parmesan
- 3 tablespoons olive oil
Garnish:
- 1/2 cup steamed edamame
- 1/4 cup 40-spice hummus
- 1/4 broccoli sprouts
- 1/4 cup feta crumbles
In a food processor fitted with a steel grating blade, grate your carrots to fine shreds.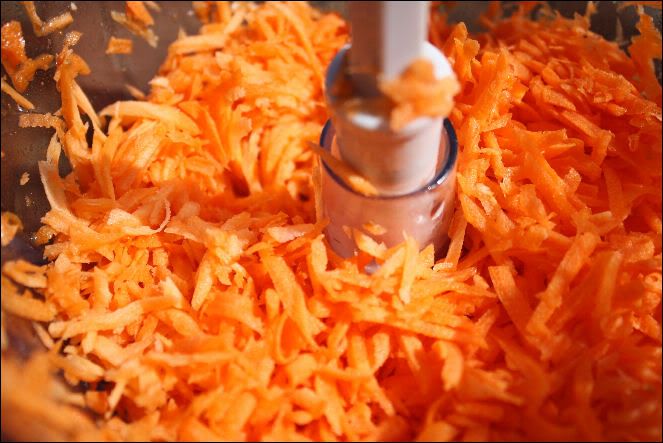 In a medium bowl, combine your breadcrumbs, eggs, basil, and parmesan. I know it seems crazy that there's not more spices or herbs, but this combination will give you the most amazing, earthy flavor you can imagine. It truly is imperative that your basil be high quality. If it's been sitting in a jar in your spice rack for two years, it won't give you the same rich flavor.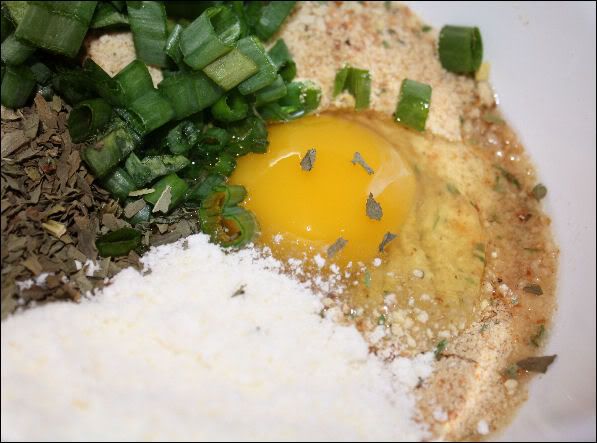 When ingredients are mixed into a sticky "dough", add your carrot shreds and mix well with your hands until everything is well blended. Smell that? Oh yeeeeaaah.
You'll want to form patties with your new carrot-dough. I just scooped handfuls of it out of the bowl and flattened them manually between my palms. Either drizzle your oil into a large skillet, or brush the patties themselves with a bit of olive oil, and pan fry over medium heat, about 6-7 minutes per side, until latkes are browned and crisp on each side.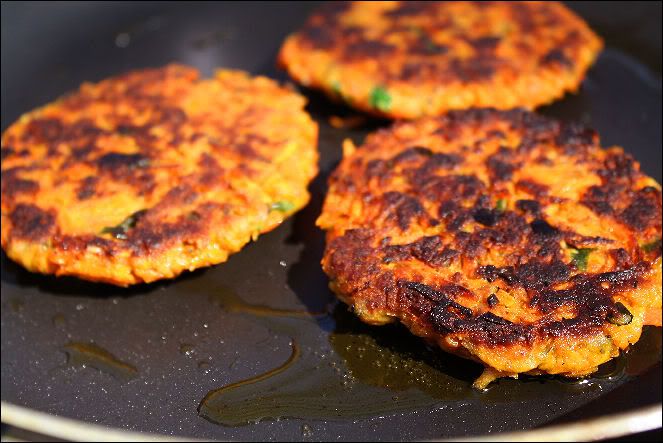 You can finish the dish however you want, but I wanted to make it pretty, because that's what makes me happy. And I just have to say--at the risk of sounding like a total prat using trendy words, the umami in this dish was almost overwhelming. It was a totally toe-curling lunch; a heady combination of salty feta, spicy hummus, rich parmesan, the bite of young sprouts, and crisp, fresh carrot. I could have eaten these every day for the next year, easily. Definitely a recipe to add to that good ol' mental Rolodex.
Enjoy, and happy eating!