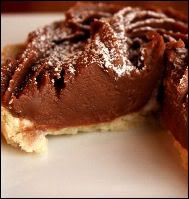 Alright, fabulous friends. I promise--this will be my last rich, decadent pastry for a while. But since my chocolatey streak is going to be on temporary hiatus for a bit, I figured we might as well go out with a bang, eh? And what says Shazam! better than ganache? TWO ganaches! Pile them in a flaky pastry shell, and I
dare
you to be in the same room and not lunge over the counter for a bite.
This tart is actually deceptively easy to make and has very few ingredients, especially if you buy crust mix or pre-rolled pastry. I just bought dry pastry mix, added water, and rolled it into a ball for this purpose. I'm kinda lazy like that.
What you'll need for 6-8 tarts:
Recipe is kosher dairy and vegetarian
Equipment
:
- At least one mini tart pan, shallow ramekin, or other small baking pan.
- Mixer, either hand or stand
- Small mesh strainer or sifter
- Piping bag or strong freezer bag
- Aluminum foil
- Pie weights or dry beans or rice.
Ingredients
:
- About 1 pound pie crust dough
- 10 oz white chocolate, chopped
- 2/3 cup whole milk
- 24 oz dark chocolate, chopped
- 1 1/2 cups whole milk
- Powdered sugar for garnish
* Disclaimer: While normally, ganache is made with heavy cream, I'm using whole milk this time around strictly for calorie-reduction purposes. If you're not concerned by such things (and go you!), by ALL means, please use cream.
Preheat oven to 400 degrees. ::sings:: Make it hot hot hot!
Pinch off a palm sized ball of dough and press it into your teeny cute little tart pans. Press it in a smooth, even layer. Lay a small sheet of aluminum foil over your dough and fill it with your weights--beans, rice, etc. This will hold the dough down so that, when you bake it, the pastry won't shrink or bubble. This is called "blind baking".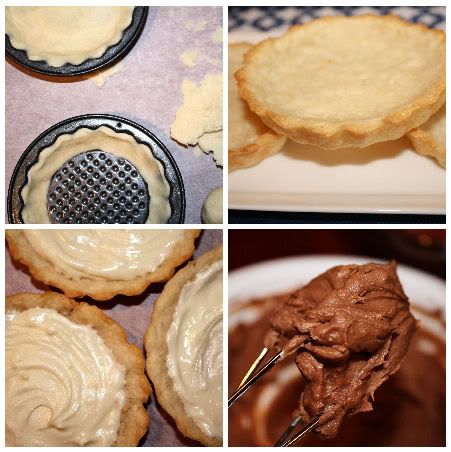 Pop your weighted crusts into the oven and bake until the edges are just golden, about 12 minutes, but all ovens vary, so keep an eye on them. You don't want them to be browned. The butter in the pastry makes them seem soft at first, but they'll firm up as they cool.
In a small saucepan, simmer your 2/3c of milk until hot, but not boiling. Turn off the heat and add your chopped white chocolate. Stir well until smooth, no lumps. Spoon white chocolate into cooled pastry shells and spread evenly. Now, at this point, you could pop some fresh berries on there and eat them just like that, and wouldn't that be just divine. But let's go a little further. Just a wee bit over the top.
Wash your small saucepan and add your 1.5 cups of milk, and repeat the same process above, but using your dark chocolate instead. When the ganache is glossy and thick, transfer it to a mixing bowl and, using your mixer on a medium setting, whip it like Divo until cool, thick, and lightened in color. Spoon your now fluffy ganache into a piping bag or sturdy baggie.
Pipe the whipped ganache over the white chocolate layer. If it's too thick to pipe, simply pop it in the microwave for 30 seconds and stir.
Sprinkle a bit of powdered sugar over the top. Now, just how beautiful is that? Like snow on the mountains. Oh yeah, speaking of snow... this was the view from my back door this morning. What the heck, spring?? Not cool. We ended up getting about 3" today. ::sigh:: Hope it's sunny wherever you are! Happy eating!