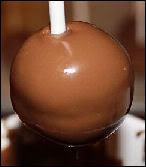 Well hellooooo there. This is, by far, the most-Googled recipe on my entire blog. And you know what? For good reason. These things are ridiculously, amazingly, obnxiously delicious. I'm pretty sure they might be the debbil.
It was my hubby's 38th birthday party this past Sunday, and I asked if there was something specific he wanted me to make for the occasion. He chose one of his favorite desserts--german chocolate cake.
While definitely a delicious cake, I wondered if there was a better way to make it accessible to a large crowd. After all, who wants to spend the whole party standing by a cake, slicing pieces for everyone? Not me. I gotsta get my party on!
So I decided to make them into cakeballs. Cute, festive, and hell--who doesn't love a cakeball?
[post-party edit: These things disappeared like congressmen during a drug bust. I could not keep them on the plate as fast as people were eating them!]
This post doesn't have a recipe, since it's just a variation of the cakeballs I've already made.
If you are not familiar with a basic cakeball how-to or the basic recipe, check out my earlier post
here
. It has step-by-step photos and everything.
I used:
- german chocolate cake mix
- coconut pecan frosting
- dark chocolate candy coating
- toasted coconut that I swirled in the food processor
I have to say--they were the best cake balls I've ever made. The crispiness of the coconut next to the creamy cake truffle... it was decadent. Absolutely sinful.