My grandmother sent me this recipe, and it made me double-take. So of course, I had to try it.
Imagine this for a moment, friends. Imagine I were to tell you that you can enjoy a thick, super-creamy, decadent chocolate pudding. "Okay," you might say. "Of course I can."
But then, what if I told you that the pudding was completely free of dairy, processed sugar, saturated fat, and gluten. What if I told you it was completely vegan, kosher parve, and heart-healthy? "Oh. Sounds terrible", you might say.
But what IF I also told you that it was freakin' amazing? Aha! What do you have to say to
that
, now?
Well, here it is, folks. Rich chocolate pudding whose main ingredient is known to reduce cholesterol, protect against heart disease and stroke, lower blood pressure, provide a rich source of folate, regulate blood sugar, increase nutrient absorption, prevent a whole slew of cancers, and boasts a buffet of essential vitamins.
That's right, it's the beloved avocado.
Wait wait wait.
Avocado??
And chocolate?? "Madness!" you say. "Sheer lunacy!"
But no, it's true. And it only takes a few minutes to whip up.
What's you'll need:
- 2 medium avocados, ripened
- 1/4 cup honey (vegan sub: agave nectar)
- 3 tablespoons unsweetened cocoa (I used high fat dutch-process cocoa from Penzey's)
- 1 teaspoon vanilla extract
Peel your avocados. Remove pit and chop into small chunks.
* You see banana in my photos. I originally made this recipe with half a banana, and didn't care for the resulting flavor. All I could taste was banana--it overshadowed the chocolate entirely. So I am omitting it now.
Put avocado into a food processor and puree. It may take a few minutes to get all the lumps and bumps smoothed out. Be patient.
.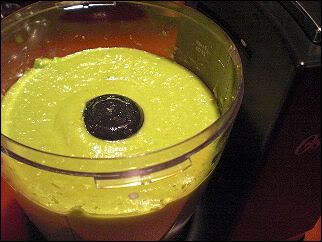 Add your honey, cocoa, and vanilla. Puree until smooth. Make sure to scrape down the sides occasionally to make sure everything is well incorporated.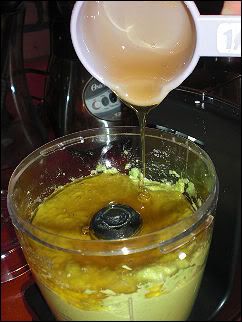 .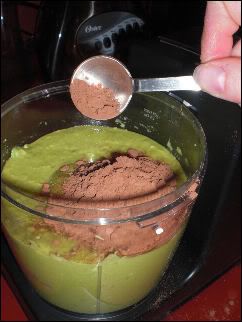 Recipe makes about 2 cups. Serve very well chilled, and garnish with something pretty--mint leaves, fresh berries, a dusting of powdered sugar...
Enjoy, happy eating!