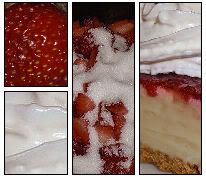 Anyone tired of winter yet? Yeah, me too.
This weekend brings sunny skies, our first warm temperatures, the stores all have big bouquets of Valentine's flowers, and I'm feeling like SPRING!
So to celebrate, I'm whipping up this super simple pie that will taste like you spent all day in the kitch. (If you can't tell, I
adore
recipes that are beautiful and seem like they'd take forever to make, but they don't. Who needs to know otherwise? It'll be our secret. Shh!)
I'd normally make my own crust from vanilla wafers and butter because the lightness and fresh flavor are a nice complement to this pie. So I'll add that into the recipe, but just be aware that this was a last-minute inspiration, so I just grabbed a pre-made graham crust I had hanging out in my pantry. If you have the time, though, you should make your own--the flavor is fantastic. Pre-made shortbread crusts are dynamite with this recipe as well.
Recipe is kosher dairy and vegetarian. Vegans could probably make this pie with key lime juice and silken tofu, but please don't quote me on that--I've never tried.
Crust (for a deep, 10" pie plate)
Of course, skip these if you're using a pre-made crust. Just make sure to buy a 10" crust. Mine was a 9", and I had filling left over, so I just baked it in ramekins like a stand-alone custard.
2 1/2 cups crushed vanilla wafer or shortbread crumbs
3 tablespoons sweet cream, unsalted butter - softened
1 teaspoon vanilla extract
Filling:
2 cans (14oz) sweetened condensed milk
2 eggs + 1 yolk
1 cup key lime juice
Strawberry Glaze:
1/2 quart fresh strawberries, chopped
1/2 cup sugar
1/4 teaspoon fruit pectin
If you don't have pectin, strawberry or unflavored gelatin will work too
Alright, got everything? I know, can you believe there's less than 10 ingredients for this whole delicious, double-layer pie? Crazy!
Let's go!
To make your crust, add all crust ingredients to a medium bowl and use your fingers to work the softened butter into the cookie crumbs. The mixture should feel like damp sand and be very well incorporated. If it's too dry or crumbly, add another tablespoon of softened butter. Press the mixture into your pie plate, making sure to bring it up the edges and keep it in an even layer. Set aside.
For the pie filling, add all ingredients into a large mixing bowl and beat well until well blended and creamy. (Are you laughing yet, at how easy this is? Me too. It boggles my mind that people pay $5.99 a slice for this at restaurants. Man, I'm in the wrong business.)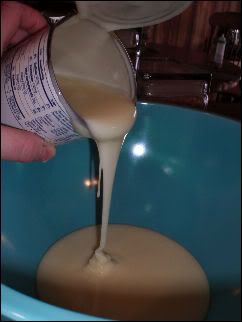 .
I recommend a hand mixer for this, since whisking by hand may not be thorough enough. If your eggs aren't completely whipped into a frenzy, they'll bake unevenly and could leave your filling lumpy and less than custardy. We like custardy.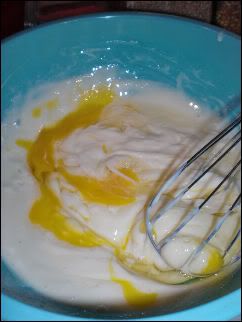 .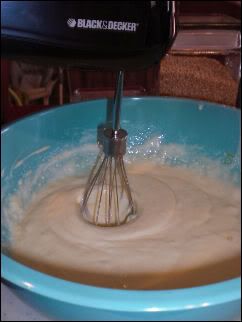 Oh! Due to the
tragic, untimely death of Old Faithful
, I got a new hand mixer! Black & Decker, baby. AND it has dough hooks! Awesome possum!*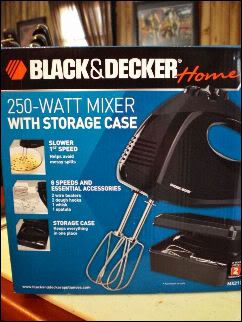 * No possums were harmed in the making of this commercial.
When all ingredients are blended, bang the bowl on your worktop a few times to let all the bubbles rise to the top. Use a spatula or a fork to wipe bubbles away. If you skip this step, it's no issue whatsoever. I just do it with all my custard pies out of habit. Makes the texture a bit smoother, I feel. But I could be making that up.
Pour your filling into the prepared pie crust and bake at 325 for 15 minutes. Set a timer, seriously. Even if you're really good at guesstimating bake times, custard pies are sensitive to overbaking.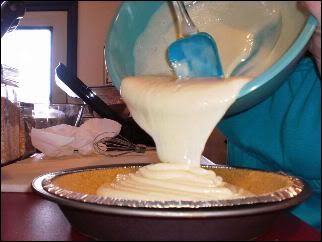 .
When finished baking, your pie should
not
be browned on top, and should
not
look 'done'. It'll look just like it did when you put it in the oven. That's a good thing. Let it cool to room temperature while you make your strawberry glaze. And this is how we do
that
:
Into a small or medium saucepan, add your strawberries and sugar.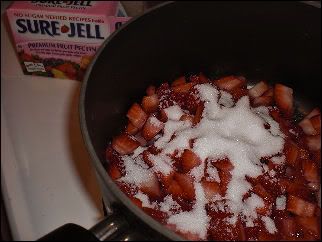 Cover, and cook over medium heat, stirring often, until strawberries are broken down and juicy. Add your fruit pectin and stir well. Uncover and bring the mixture to a rapid boil and keep stirring until it resembles a thin, chunky jam. Remove from heat and let cool until it's no longer steaming.
[Just FYI - Increase the pectin to 1 teaspoon, and you'll have about a cup of fresh, homemade strawberry jam. Yum!]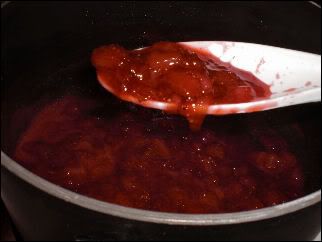 Pour glaze on top of baked pie, and spread edge to edge.
.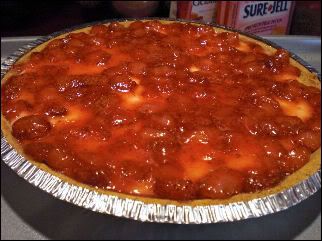 Let your whole pie cool to room temperature, and then chill in the fridge for 2 hours before serving. I like to let it chill longer, but 2 hours is sufficient.
Top with a dollop of whipped cream and garnish with a strawberry or lime slice if you roll like that. Or just grab the pie and a fork and go to town. Whichever works for you. ;)
Happy spring, and most importantly, happy eating!