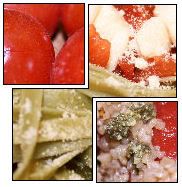 Hello, friends!
I got a new camera today! I'm so excited! I squee'd a little when I uploaded my brand spankin' new photos and saw how crisp and clear and fantastic they are. I may have licked the screen.
(I did not. But I sorta wanted to. A little.)
Anyway, tonight's dinner was, in small part, a fail. My little fettuccine nests didn't stay nesty, and I didn't have quite enough little cherry tomatoes. But one bite and my teensy little fail turned into one giant, whalloping WIN! The husband enthusiastically requested seconds, but being used to cooking for one, I hadn't made quite enough. (He's stationed across the country with the Army. Sadface.) So I went back and made more. Because yes, it was just
that
good.
What you'll need for four servings:
Recipe is kosher dairy and vegetarian
- 4 servings of your favorite fettuccine
I used Grand Mere spinach fettuccine nests. About 12 of them.
- 1 12oz can tomato paste (I used Hunt's)
- 6 oz high quality pesto sauce, divided (I used Christopher Ranch)
- A dozen cherry tomatoes
- 4 oz fresh mozzarella, pearls, or chopped into small cubes
- 1/2 cup grated parmesan cheese
- 1/4 cup minced garlic
- 1 teaspoon fresh ground black pepper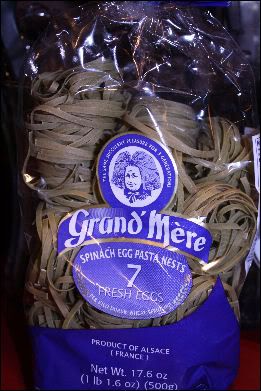 Pesto is super easy to make from scratch, but my grocery was out of fresh basil, and I don't have any potted at the moment, so I bought jarred instead. It was fabulous--just make sure whatever you buy is high quality. You can usually find jars of pesto sauce in your produce section, near the herbs and/or tomatoes.
Anyway, put a giant pot of water on to boil, and add a few generous pinches of salt. Don't add your pasta until everything else is ready to go. It'll cook quickly.
I know it seems daunting if you've never done it, but you'll need to blanch and peel your cherry tomatoes. I swear, it just takes a moment. My wonderful aunt Debbie (who makes the most amazing salsa ever) schooled me in the ways of the tomato, and I never realized how easy it was until she showed me how to do it. You can even use the same pot of water in which you'll later cook your pasta.
Simply slice a small "X" in the skin of your tomato, at the bottom, opposite the stem end. Drop the tomatoes in your boiling water for about 30 seconds. Then, just pull the poor things out of the pot with a slotted spoon and drain on a cutting board. The skin should be peeling away from the "X", and you can just slip the skins right off. Easy peasy, eh? Don't turn the heat off, you'll need that boiling pot for your pasta.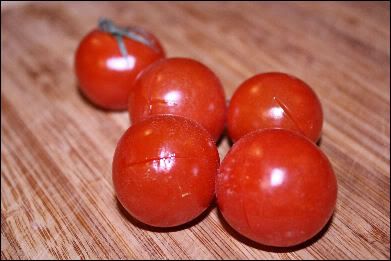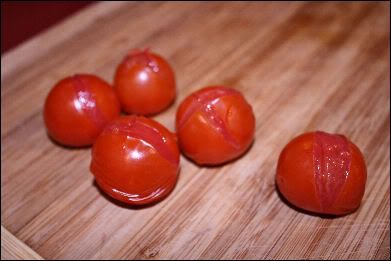 Anyway, once the little darlings are peeled, use a sharp paring knife to hollow out the middles. Because these are so small, you may end up with a tulip-shaped tomato shell. Pretty, hm? No? Well, they will be.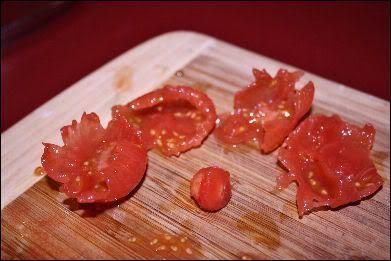 Drop a cube or two of your fresh mozz into each little tomato tulip. Stick your tomatoes under a hot broiler for a minute or so until the mozz is just melted.
(I did not do this. I thought the heat from the blanched tomatoes would melt the mozz on its own. It did not. And now I wish I had broiled them briefly.)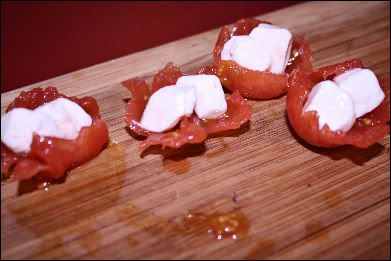 Now, to the sauce!!
In a medium saucepan, combine your tomato paste, 3/4 of your pesto, all your garlic and black pepper, and your parmesan. Stir well until bubbly and delicious.
Now, drop your pasta into the water and let boil until
al dente
or tender, about 5-8 minutes. Test it before draining. I did not drain my pasta, I simply removed it directly from the pot with a pronged pasta spoon.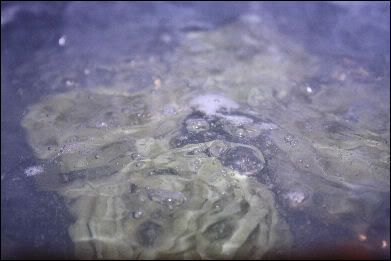 I made a generous little pool of my tomato pesto sauce on the plate, added my fresh, steaming fettuccine on top, dropped little spoonfuls of straight pesto around the sides, and garnished with my little mozz-filled cherries and a sprinkle of parmesan. How's THAT for easy, fresh, and fab? Your guests will go nuts.
Enjoy, and happy eating!
And then...