With winter banging down our doors, I think we could all use something sunny and bright.
What screams "SUN!" with more fervor than blueberries and oranges? Well, I just can't think of a darn thing.
OH! Wait, I can.
Blueberry filled cupcakes with a luscious orange-infused cream cheese frosting. Yeah,
baby
, that'll do it.
Cupcakes and Frosting are OUD. Blueberry filling is OUP and vegan.
So what's in 'em?
Cupcakes
3 1/4 cups all purpose flour
1 1/4 cups sugar
1 tablespoon baking powder
1/2 teaspoon coarse kosher salt
1/4 teaspoon baking soda
6 tablespoons sweet cream, unsalted butter, melted
1/4 cup vegetable oil
2 large eggs
1 cup buttermilk or low-fat yogurt [I used nonfat blueberry greek]
1 cup milk
1 tablespoon vanilla extract [yep, that's a lot of vanilla!]
1 tablespoon grated orange zest [about one medium orange]
Fresh blueberries, mint sprigs, or candied orange peel for garnish
Got everything? Let's bake!
Preheat oven to 350°F, and line two 12-cup muffin pans with paper or foil liners.
To make the cuppity cakes, sift together your flour, sugar, baking powder, salt, and soda into a large bowl. If you don't have a sifter or a mesh strainer, use a whisk to make sure all dry ingredients are well blended.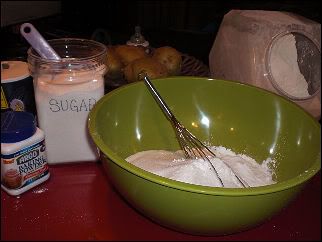 .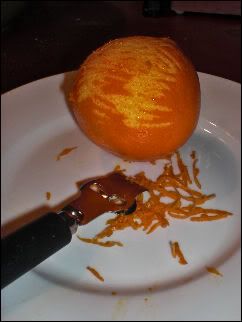 In a medium bowl, whisk together your melted butter and oil. Add eggs and blend thoroughly. Whisk in buttermilk or yogurt, milk, vanilla extract, and orange zest. Add the wet mixture to dry ingredients, and stir well. (Can you feel the sun yet?)
.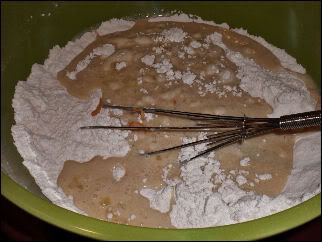 Divide batter among liners. It will be super thick, like what you might get if pancake batter and bread dough met at Woodstock and had a lovechild.
These darlings eat best when they're relatively small. It's hard to get a good mouthful of cake
and
filling if they're too tall, so only fill the cups about halfway.
Bake these beautiful little fluffballs until tester inserted into center comes out clean, about 20-25 minutes. While baking, make your blueberry filling. Recipe below. When cupcakes are golden around the edges, transfer to racks and cool.
.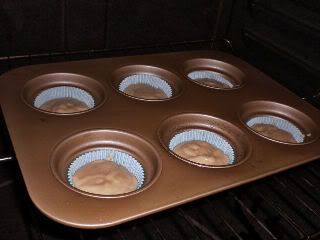 Filling
1 pint blueberries, fresh or frozen.
1 cup granulated sugar
1/2 tsp high quality cinnamon [I used Penzey's Vietnamese]
1/8 cup orange juice
1 tsp fruit pectin
This is super easy-peasy. Dump all ingredients into a saucepan.
.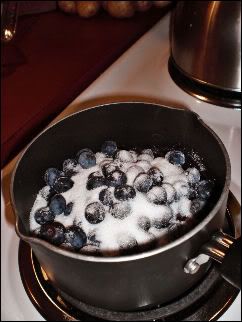 Cook over medium-high heat, stirring occasionally, until it comes to a gentle boil. Boil gently until blueberries are broken down, about 8 minutes. Reduce the heat and simmer the mixture until it resembles thin jam. Stir occasionally to keep the bottom from scalding. It'll be thin at first, but will thicken as it cools. You can refrigerate it if you're impatient like me. :)
[I'm walkin' on sunshiiiiine! Yeah, yeah!]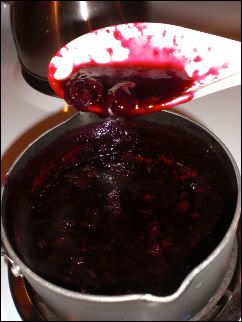 Frosting
16 ounces chilled cream cheese
8 tablespoons sweet cream, unsalted butter, room temperature
2 big, heaping cups powdered sugar
1 tablespoon orange extract
1 teaspoon vanilla extract
1/4 cup chilled sour cream or plain greek yogurt
Zest from one medium orange, finely grated
Oh, look! More easy-peasy stuff! I love it when it's simple. Just like summer. And beaches. And picnics. And ... oh, hello. February, you say? Bah! Not here, it isn't!
Microwave your zest with a spoonful of water for 30 seconds until hot. Drain. This helps bring out the orange oil and lots of flavor. I also cut my orange in half and squeezed the juice directly into the frosting while mixing. The cream cheese flavor is so strong, it takes a lot of orange to bring the citrus flavor through.
So, just dump everything but the powdered sugar into a large bowl, break out your hand mixer again, and whip it all together. It will start out impossibly thick and your mixer will be getting a workout. Begin adding your powdered sugar gradually, scraping the bowl occasionally to make sure you're mixing everything in. It'll be easier to whip now.
Frosting should be creamy and thick. Set aside or refrigerate.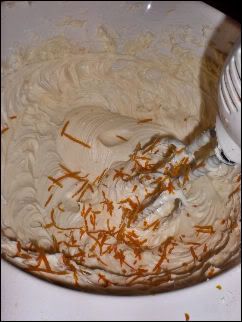 Now let's just 'bibbity bobbity boo' all of this delicious sunshine together!
It is
imperative
that the cupcakes are completely cool, even chilled, before proceeding. Otherwise, they'll crack and crumble when you make the filling-hole.
Use an apple corer or a paring knife to gently hollow out a space in each cupcake, about an inch deep and 1/2" wide. Make sure to actually remove the cake from the hole, not just push it down.
Fill a ziplock-style baggie with your blueberry compote, seal it, and cut a hole in a corner of the baggie large enough to squeeze the fruit through.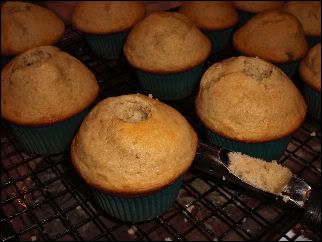 Use the makeshift piping bag to fill cupcakes with blueberry filling. Be generous, but do not overflow the hollow space, or it'll make for a pretty messy...er, mess.
Filling should be flush with the top of the cake. You can stick a butter knife or a skewer down into the filling to make sure there's no bubbles and the cupcake is fully filled.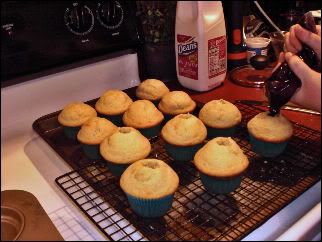 .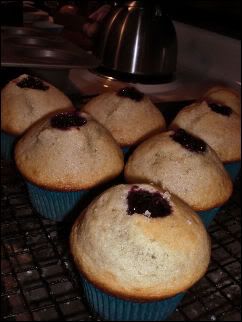 Okee doke. That's that. Now for the best part--the frosting!
You can always just frost the cupcakes with a knife or spatula and call it good. But I wouldn't be the Happy Baker if I left it at that. No no. A cupcake of this level of cheerfulness
requires
festive piping and garnishes.
So. Fit a piping bag with a wide, 3/4" or larger open star tip (or whatever you prefer, if you have a preference). Fill the bag with your luscious orange-infused frosting, and tie off at the end.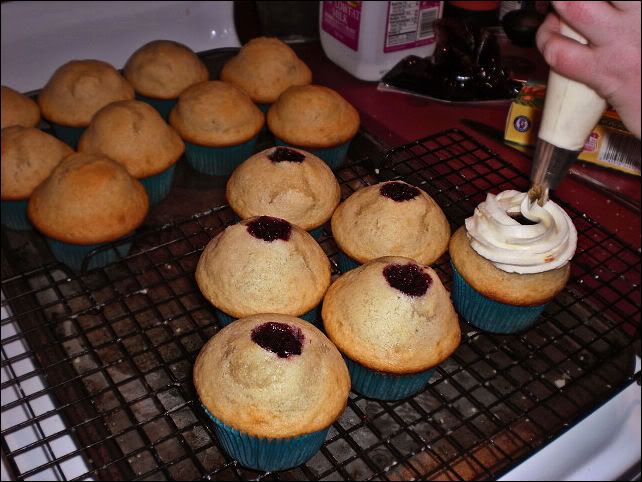 Pipe luxurious mounds of frosting onto each cupcake, being sure to cover the opening filled with blueberry.
Garnish as you please, don your bikinis, and enjoy your summery, tangy, sweet little piece of summer.