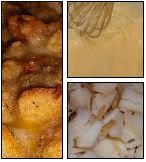 I just gotta say--wow. Holy cow, wow. WOW! This blog is
not
a collection of tried-and-true"Best of the Happy Baker" recipes. Most of these are twists on old favorites, experiments, and my own concoctions. So every now and then, I'm gonna run into something that takes me by surprise by how good (or even, occasionally, how bad) it is. (Don't worry--if it's bad, I won't post it. Or if I do in jest, I'll give fair warning.)
If ever there was something I'd make that I think people would pay to eat, it is this recipe.
I
would pay to eat it, and I made it! The flavor is decadent and artisan, the texture is thick but fluffy, and the whole thing tastes like a blissful cross between quiche and ... something magic.
The recipe I'm posting here is just all my favorite things thrown together all willy nilly. You can add, omit, or change anything you darn well please, but I'm telling you--this combination of flavors is out of this world.
But if you feel like experimenting, go to town. The beauty of bread pudding is its incredible versatility.
Don't like mushrooms? Toss 'em out!
Want to add bacon? Go for it!
Not enough cheese? Darn right, there's never enough cheese. Go crazy.
Make it yours. Get creative. You'll be well rewarded.
So, this is what I put in
my
savory bread pudding:
The base:
Base recipe is Kosher dairy and vegetarian. For vegan substitutions, see the "Bread Pudding - The Sweet" post.
- 1 lb bread, cubed. Again, I used challah. For savory puddings, sourdough and italian breads work well.
- 3 eggs, beaten
- 1/4 cup heavy cream
- 1 cup milk
My add-ins:
- 1/2 cup sun dried tomatoes, chopped
- 1/4 cup diced scallions
- 1/4 cup diced yellow onion
- 2 oz aged provolone, chopped
- 2 oz shredded colby jack
- 1 teaspoon minced garlic
- Seasoning to taste. I like Penzey's FoxPoint with a little black pepper. You can use onion and garlic powder, salt, dried chives.
.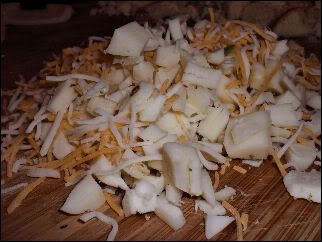 Preheat oven to 350 degrees F.
Whisk together milk, cream, egg, and seasoning. Add in your mix-ins and stir well.
.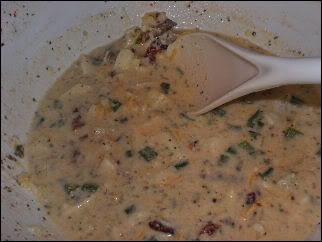 Add bread and toss gently to coat. Get that egg mixture allll over that bread, baby.
.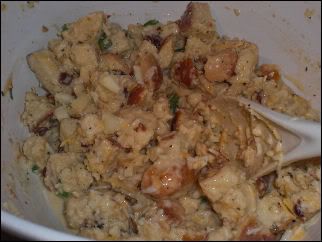 Let sit for a second so the bread cubes can soak up all that deliciousness, then transfer to baking dish or individual ramekins.
Bake at 350 degrees F for about 25-30 minutes until the center is set and tops are golden. Individual ramekins take less time, so watch them closely.
Serve warm, plain, or with any number of savory sauces - a dollop of sour cream, hollandaise, béarnaise, cheese sauce, country gravy, etc.
My recipe made 4 servings. Happy eating!