Bread pudding is, in a word, awesome.
Bread = awesome.
Pudding = awesome.
Bread + Pudding...? Well heck, that's just awesome squared! You just can't argue with mathematics.
It's food for everyone and for every occasion. Whether for breakfast with raisins,for dessert with white chocolate, whether you get fancy with artisan cheeses, funky with crazy add-ins (hot dogs and peas? Why not!) or just frugal with stale bread, bread pudding is a versatile way to create something delicious from kitchen scraps.
Today, I made two different kinds of bread pudding.
This post will contain the sweet version. I made a very simple dark chocolate bread pudding, using homemade challah.
Recipe is Kosher dairy and vegetarian. Vegans can replace the egg with
Ener-G Egg Substitute
, and use soy or almond milk to replace the milk and cream, respectively. Adding a little silken tofu will help keep the recipe nice and thick.
What you'll need:
- 1 lb bread, cut into small cubes. Italian bread works well. I like challah the best.
- 1/2 cup heavy cream
- A heaping 1/2 cup brown sugar, the darker the better
- 1 1/2 cup milk
- 3 oz bittersweet chocolate, chopped or in chips
- 2 large eggs, beaten
- 1 tablespoon coffee liqueur
- 1 teaspoon vanilla extract
- 1 teaspoon cinnamon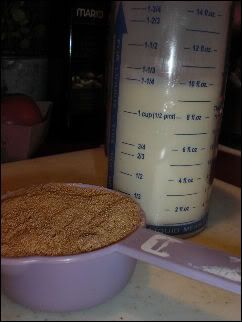 Preheat oven to 350 degrees F.
In a medium saucepan, heat your milk, cream, and sugar to a low simmer. Turn the heat off and add your chopped chocolate (or chips) and stir until well melted and smooth.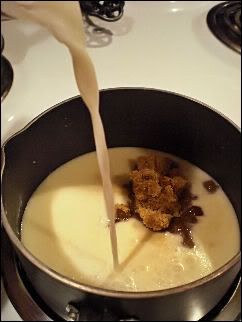 .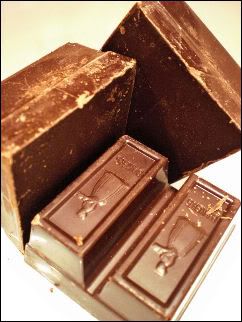 In a separate bowl, whisk together your egg and vanilla. (I bought a new whisk this weekend! Wee!)
Wait for the milk/chocolate mixture to cool to touchable temperature. (This is important, or you'll end up with chocolate egg drop soup. I
may
have done this and had to start over. Perhaps. Allegedly.)
Slowly whisk the egg mixture into the chocolate. Yay, you have a custard!
Now let's add your bread cubes to that custard and toss gently to coat. Make sure
all
the bread gets a nice little chocolate bath. If bread isn't completely saturated, add another 1/2 cup milk and fold in gently. Don't you wish you were that bread right now? Ooooh, yeah.
.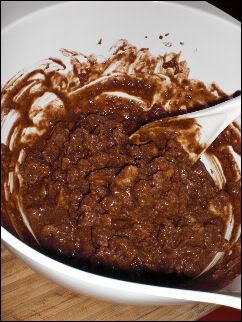 Transfer your chocolaty yumminess to a baking dish or individual ramekins and bake at 350 degrees F until the center is just set. Don't overbake. For one big baking dish, it'll take about 40 minutes. For individual ramekins, about 30. You'll have to keep an eye on them.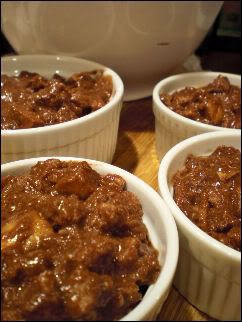 .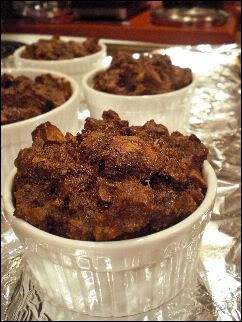 Serve with whipped cream, fresh fruit, or for a truly decadent touch, a caramel drizzle. Mmmm. I topped mine in chocolate syrup and ate it warm. Awesome. Life is good.
Happy eating!