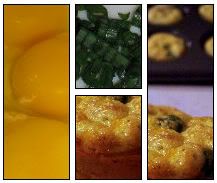 It's been a heck of a week, friends.
Sorry I've been away, but my kitchen has been in a bit of a standstill lately, with family affairs taking main stage for a while. But now that everything's back on a more normal cycle, the kitch should be chugging away again in no time.
Also, in happy news - I've been commissioned as a contributor to the fabulous, healthy, kosher blog:
The Jewish Hostess
. Regardless of your religious affiliation or lack thereof, it's a blog featuring tons of absolutely to-die-for recipes that are, in vast majority, healthy and light. Go check them out. I won't be posting the same recipes here that I post there, so I'll be sure to link to TJH when something new goes up over there. Be sure to go scope them out and leave a comment! :)
Anyway, tonight, like almost every Saturday, is game night at my house. My family comes over and we play board games and have some nosh. I had intended to make more of my
Won't-Miss-the-Crab Rangoons
, but it turns out...wonton wrappers don't thaw well after being frozen. Idea scrapped. But then, inspiration!
Since I had my mini muffin pan already out and was a little crunchy on time, I decided to whip up something super fast and easy. These measurements are all eyeballed and estimated, so adjust to your liking and crowd size. My recipe made about 18 mini quiches.
What You'll Need:
Recipe is vegetarian and kosher dairy.
- 4 large eggs
- 1/2 cup shredded cheddar
- 1/4 cup grated parmesan
- 1/4 cup yellow onion, finely diced
- 3 green onions, finely diced
- 3 tablespoons flour
- 2 teaspoon minced garlic
- 1 teaspoon kosher salt
- 1 teaspoon chili powder
- 1/2 teaspoon ground black pepper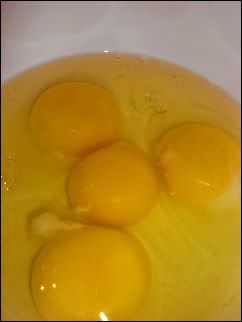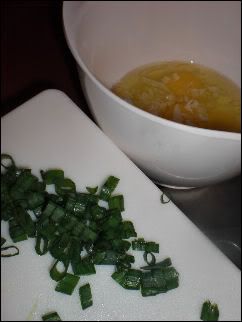 Preheat your oven to 350 degrees F.
Crack your eggs into a medium bowl and whisk thoroughly. Dump in the rest of your ingredients and whisk well until everything's completely blended.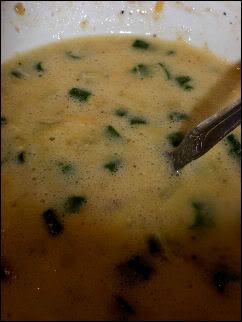 Be sure to spray your mini muffin tin with nonstick spray like Pam.
(I forgot to do this and spent the next ten minutes prying my little quiches out with a butter knife. They still looked pretty and tasted good! But seriously. Spray.)
Pour egg batter into muffin tins. You want them about 3/4 full.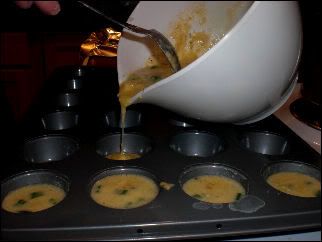 Bake at 350 degrees until fluffy and dry, about 10 minutes. They should not wobble in the middle. You can test with a butter knife if you like--it should come out clean when inserted into the center of a "test quiche".
Serve 'em up and enjoy! Happy eating!