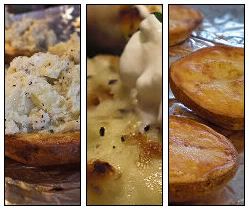 Yay, more Superbowl food!
Or movie-night snackables. Or party nosh. Whatever. But one thing they
definitely
are, is delish.
This recipe is both kosher and vegetarian. If you're not either, you can always sprinkle with bacon bits. Bacos® Bits are kosher parve. How funny is that?
What you'll need for 6 potato skins:
- 3 small potatoes. Small russets work well, or Yukon Golds.
- 3-4 oz (about a cup) whipped cream cheese
- 1/4 cup milk
- 2 oz brick provolone, chopped finely (I used Hautley's aged. You can really use whatever you like; cheddar, colby jack, etc))
- 1 tsp minced garlic
- Olive oil to brush
- Seasoning to taste (I used FoxPoint and black bepper. You could use onion powder and dried chives)
Preheat oven to 400 degrees F.
Slice potatoes in half along the length. Brush each cut side liberally with olive oil. Some people say you should bake the potatoes whole, but I prefer to slice them because they get beautifully crisp and brown, and take half the time to bake.
When potato halves are fork tender, remove from oven and let cool until you are able to handle them. Don't turn off the heat in the oven.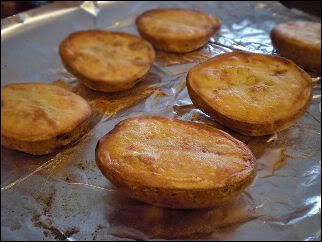 With a butter knife, carve out the inside of your potato and scoop the middles out with a spoon. You want to leave some potato around the edges for support. Put the cooked potato middles into a separate bowl.
.
Into that bowl, add your cream cheese, spices, and chopped provolone. Stir well and add milk until filling is the texture you like.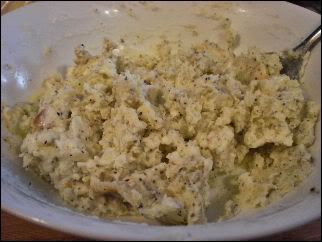 Spoon filling back into potatoes and bake at 400 degrees F for about 8-9 minutes. Turn on your broiler and broil potato halves about 2-3 minutes or until tops are golden.
.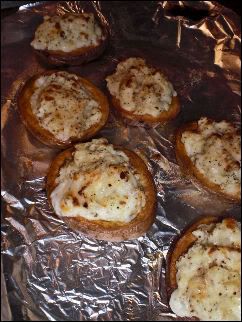 Garnish with sour cream, chopped scallions and bacon bits or Bacos, or just leave them as they are.
Happy Superbowling, and happy eating!