Today was a lazy day, my friends.
I woke up with images of cupcakes and pie in my head, and decided to sit down and check my email. Then I would bake.
I checked my email. And then the Kiddo wanted breakfast. So I figured I would cook. And THEN I would bake.
And then I needed to go to the store before this storm whips in. And THEEEEN I would bake.
You can see how this happened. All day.
Needless to say, I did not bake.
But I did make lentil salad! This is my favorite go-to side dish or snack. It's always seasonal, always fresh, and best of all, super easy. It has an amazing flavor too--the nutty lentils, the mildly salty zip of the feta, the crunchy tang of the onion... Mmm! It's fabulous.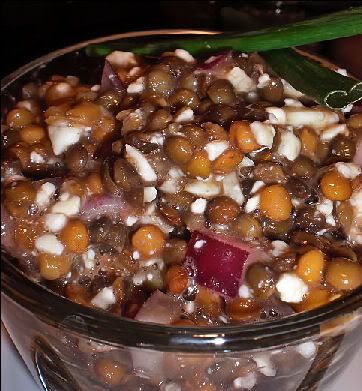 I bought everything one would need to make lentil salad at Trader Joe's. You can find these ingredients anywhere, though.
What's In It?
(Recipe is vegetarian and OUD)
- Roughly 1 lb steamed black lentils. If you can't find pre-steamed lentils, you can buy them bagged and steam them yourself. It's a little more work, but well worth the effort.
- 1/2 medium red onion, finely chopped
- 1/2 cup balsamic vinaigrette
- 6 oz crumbled feta
That's it. :)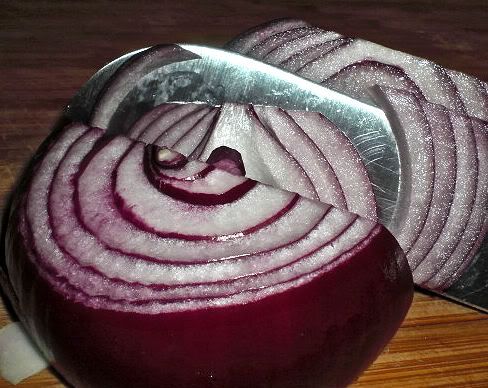 I feel a little foolish even having added so many pictures, because the recipe is simply: Dump all ingredients in a bowl and stir. That's all there is to it. But everyone loves pics, so I'm posting them anyway.
These are the pre-steamed black lentils I use. You can find them in the refrigerated produce section of your nearest Trader Joe's.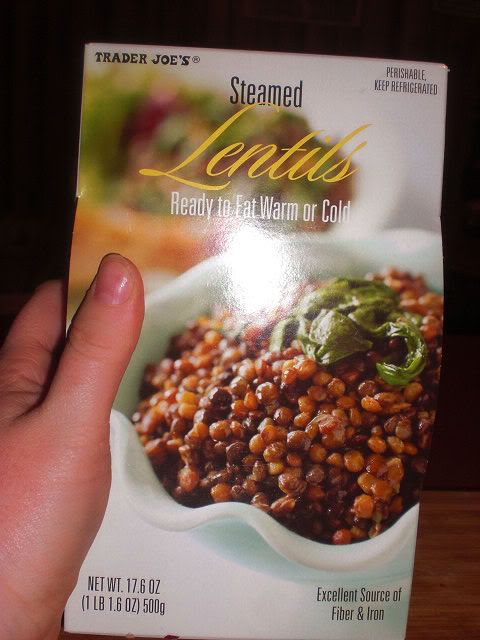 This is what they'll look like when loosened and well stirred: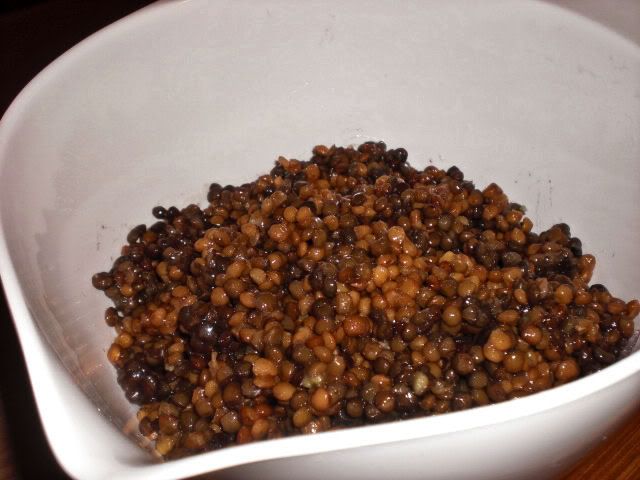 Add your onions and crumbled feta:
_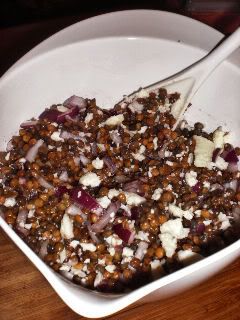 Drizzle in the balsamic vinaigrette and stir well. The longer you let the salad sit, the better the flavors will all marry together. I guarantee, it'll be even better tomorrow.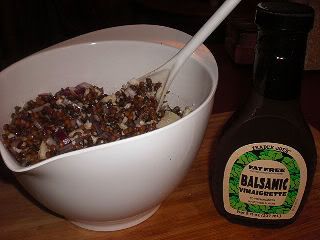 Enjoy! Happy Eating!