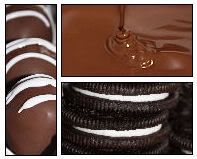 A dear friend's birthday is this week, and for her birthday party, I was asked to bring a dessert. That's a pretty wide request for someone like me who has chocolate in her veins, so I called and asked her what kinds of things she likes. She said, "Just about anything Oreo."
Well now, I just happened to have the perfect confection in mind for anyone who calls themselves an Oreo lover. Oreo truffles!
Did you hear that, friends? It's the sound of two perfect flavors combining. I heard somewhere that whenever Oreos meet melty chocolate, a Keebler Elf gets his wings. Wait, no--that's not it. Hm.
Anyway, the process for making these deletable little balls of yum is very similar to the way we make cake balls, similar to the ones I made for
Valentine's Day
. Except...no cake. And no frosting. And no lollipop sticks.
What you'll need:
Recipe is kosher dairy (Oreos are OUD! I know!!) and vegetarian. To make this recipe a bit more lean, you can use sugar free Oreos and lower fat cream cheese.
- 1 package Oreos or similar sandwich cookie
- 1 8oz package cream cheese, softened
- 8 oz dipping material.
- 2-3oz contrasting chocolate or candy melts for drizzling
You can use candy melts, dark chocolate, flavored bark, etc. I used chocolate bark and white royal icing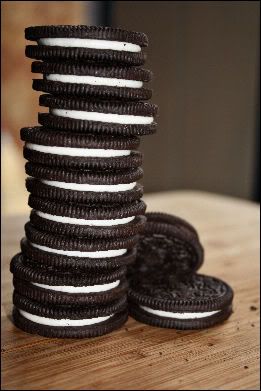 Line a cookie sheet with waxed paper.
Gently separate your cookies. Using a butter knife, scrape the creme centers into a bowl. You won't be using them in this recipe, so you can stick 'em in a baggie and freeze for later use in something else if you just hate the idea of throwing away perfectly good junk food. Like I do. When your Oreos have been scraped clean, you'll have a giant pile of naked cookies.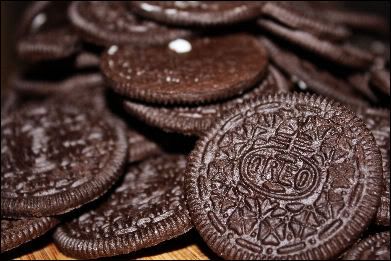 Stick your naked cookies in a food processor and puree them down to fine crumbs. At this point, my husband walked by and commented, "It looks like dirt."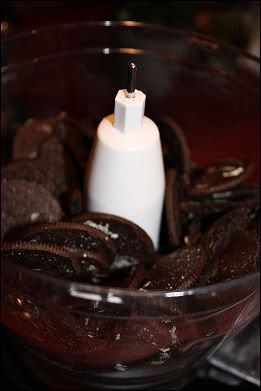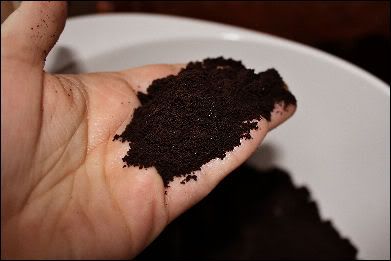 Using your hands, work the cream cheese into your cookie-dirt and knead it together until well blended. You shouldn't be able to see any cream cheese when you're done. When everything is mixed thoroughly, turn your "dough" out onto a clean workspace and knead until soft and smooth.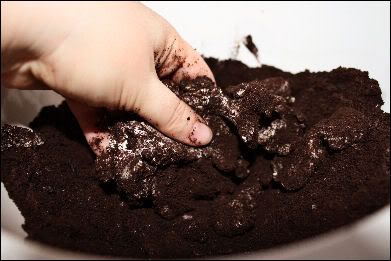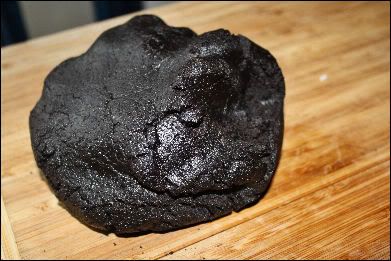 Pinch off pieces of dough and roll into 1" balls. Place each ball on your lined cookie sheet. You'll be making balls for a while.
When they're all finished, pop 'em in the fridge until well chilled and firm, about 30 minutes.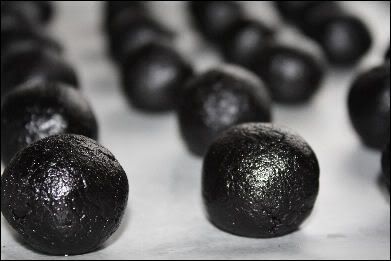 When they're well chilled, empty your dipping chocolate into a deep bowl or mug and microwave on 50% power until melted and smooth. Be sure to stir every 30 seconds or so to prevent scorching.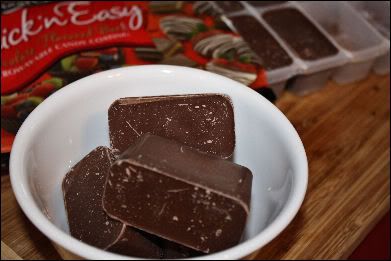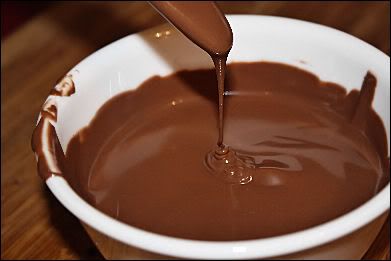 I find toothpicks to be the easiest tool for dipping. You can always use a candy dipping tool, a fork, or whatever. But I like toothpicks. Poke a toothpick into an Oreo ball. I like to go all the way through. These things get heavy when coated, and it can get messy having to fish Oreo balls out of your chocolate when they've fallen off your toothpick.
Gently dip your Oreo balls into the chocolate, swirling and tapping to get rid of as much excess chocolate as possible. When well coated, set them gently on your cookie sheet and draw a separating line around the bottom with a toothpick, to make any puddled chocolate easier to break off when it has cooled and hardened.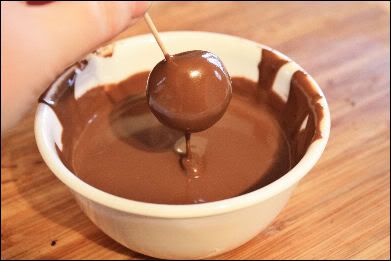 When the chocolate shell has hardened, you can remove the toothpick and reuse it. I like to be economical like that.
Continue dipping. If the balls start getting soft or are falling too easily off your toothpicks, pop 'em back in the fridge for a few minutes.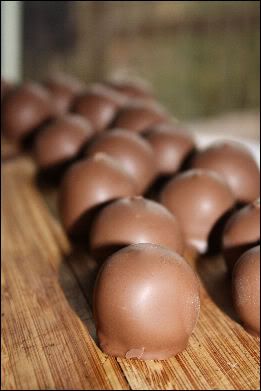 When you have a cookie sheet full of lovely Oreo truffles, gather them together. Drizzle your truffles in your choice of white chocolate, white bark, candy melts, or cookie icing. You can use a pastry bag, a baggie with a hole in a corner, a fork, or pouches of pre-made icing, whatever strikes your fancy.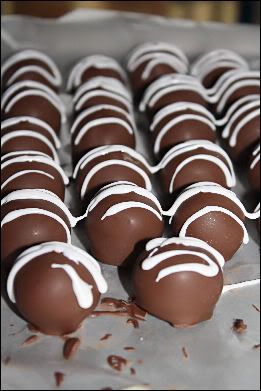 Let set for an hour before serving. Enjoy, and happy eating!