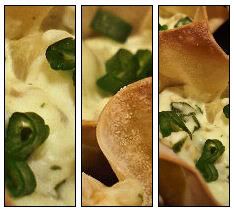 Are you ready for some football?!
What's that you say? No? Oh well, me neither. I AM ready, though, for some awesome cream-cheese laden goodies. I thought I'd post a few ideas for super easy finger foods to help quell the appetites of your favorite sportsfans this Sunday.
They really are mega-delicious, and not hard at all to make. In fact, I'm a little embarrassed to admit how easy these are, because they look so pretty and fancy. They're also baked instead of fried, to lend a healthier twist to a treat that can otherwise be full of artery-clogging oil.
(Yay! Hooray for squeaky-clean arteries! So clean you could...er...eat off of them? Um. That was kind of a gross cliche. Sorry. *ahem* Moving on.)
These are Kosher dairy, as well as vegetarian. They're so tasty, you'll never miss the crab!
Standard wonton wrappers contain egg powder and are not vegan. You could make your own vegan wrappers using
this recipe
, as well as
Follow Your Heart's Cream Cheese Alternative
.
- 1 package wonton wrappers
- 6 oz whipped cream cheese (whipped cream cheese blends much better than the brick variety)
- 5 oz can of water chestnuts, finely chopped
- 1 tablespoon minced roasted garlic
- 1/2 bunch scallions, finely minced
- 2 tsp seasoning (I used FoxPoint from Penzey's. You can use seasoned salt, dried chives, onion powder, etc)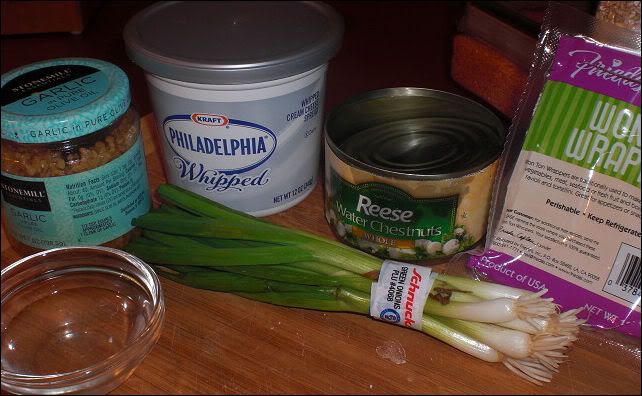 Step 1: Preheat oven to 350 degrees F.
Step 2: Mix all ingredients in a bowl.
See how easy this is? Crazy.
Step 3: Into a mini muffin tin, gently place a wonton wrapper into each opening. They're delicate, so work carefully.
.
Step 4: Spoon a teaspoon of filling into the center of each wonton, and bake the whole shebang until the edges start to brown and the centers are heated through.
Garnish with some chopped scallions, and there ya have it. How simple was that? And yet, if you serve these bad boys up at a dinner party, I bet they'll earn some ooh's and aah's.
(Don't worry, I'll keep your secret. Tell them you
slaved!
)
Coming up next? Twice baked potato skins! Nom nom nom.